Ha Giang Provincial People's Committee issued a Plan for energy saving and efficiency in the province for the period 2013 - 2015. The plan states that in 2015, the province is to achieve a total savings of 6% of the province's electricity consumption as in the forecast on electricity demand, reflected in Master Plan for Power Development of Ha Giang in the phase 2011 - 2015.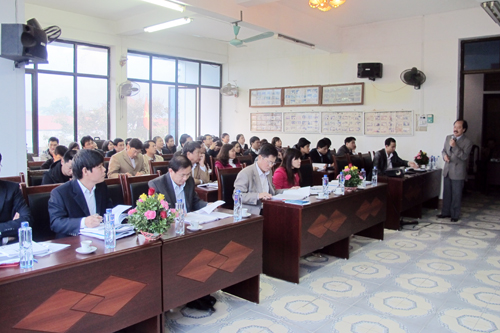 Lately, Ha Giang Department of Industry and Trade assigned the tasks to the Center of Industrial Promotion - Trade Promotion to implement power-saving solutions in this area. Initially, the solutions achieved considerable results. The amount of electricity consumption in 2014 decreased by 8% compared with that in 2013; power-saving awareness of cadres and civil servants has also been improved remarkably. There is no more cases of employees going to their offices for personal use of "free-of-charge" electricity as before.
The Centre would hold meetings to disseminate laws and bylaws on economical and efficient use of energy for staff, officials of offices, units and State owned enterprises in the province with the support of Experts from Energy Saving Office - Ministry of Industry and Trade and the Hanoi Energy Conservation Center.
Besides, the public propagation and dissemination of knowledge are regularly maintained. There are effective forms of communication such as the issuance of leaflets, brochures, stickers, posters; publication of articles on the Bulletin of Industry and Trade; aggregation of employees and civil servants to sign the commitment form for economical and efficient use of energy in the families and work place.
To carry out the energy-saving in the coming time, the propagation and education to raise awareness for staff and employees is of paramount importance. This needs to be done regularly, repeatedly, and on a larger scale.
In parallel with education, the agencies and units should develop certain forms of discouragement such as severe sanctions for cases of wasting electricity. Then, the awareness and behavior in economical and efficient use of energy would be gradually raised.
Trong Tan