In response to the National Target Program on Economical and Efficient Use of Energy, for the past 5 years (2010 - 2014), through the Power Saving Movement, Energy Saving in households, Hanoi has more 132 million kWh of electricity saved, equivalent to more than VND160 billion. Communication is evaluated as an important contribution to this outcome.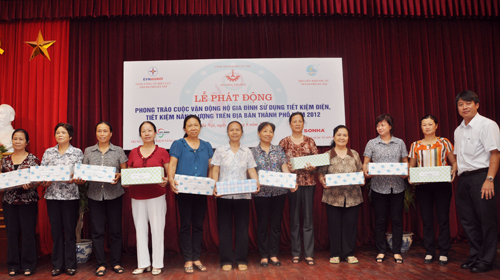 As reported by the Hanoi Power Corporation, the current average electricity consumption per capita reaches 1,350 kWh /person /year, the power consumption in households accounts for 53% of total commercial electricity in the city, including: power for lighting, hot water, cooking, fan, air conditioner, refrigerator, and television. The trend of energy demand from households is on the rise along with the natural rate of population growth. Therefore, Hanoi identifies that it is determined to maintain and promote the energy saving movement, power saving in households as one of the long-term communication focus in its implementation of the National Target Program on Economical and Efficient Use of Energy.
For the past 5 years, through the promotion of communication and raising the public awareness about power saving, the city and district women's union play a pivotal role in the movement which saved 132 million kWh, equivalent to VND167 billion. The 2010 movement had achieved 17 million kWh savings, equivalent to VND15 billion, then in 2014 this figure rose to more than 32 million kWh, equivalent to VND50 billion.
Dr. Dao Hong Thai - Director of Hanoi Energy Conservation Center (ECC Hanoi) says: Exclusively in 2014, ECC Hanoi - Department of Industry and Trade in cooperation with Hanoi Power Corporation, Hanoi city and district Women's Union organized many training programs, conferences, workshops with propagation of power saving messages. Along with that type of communication, there were many big events of the city to be held, such as the Earth Hour Campaign, Entech Hanoi Expo 2014. Particularly, through the promotional event in residential groups, the people were encouraged to join and build the 58 models of power saving households, typical energy saving households of the city, with over 400,000 participating households mobilized to respond to the movement.
Trong Tan