In implementation of power saving program in 2015, Dak Nong Power Company in collaboration with the provincial labor federation held the launching ceremony of emulation "electricity savings in the workplace" in 2015.
Among the attendants in the ceremony were Mr. Dang Hong Nien - standing Vice Chairman of the Confederation of Labor and representatives of Dak Nong Provincial Power Company, representatives of the departments and unions in the province.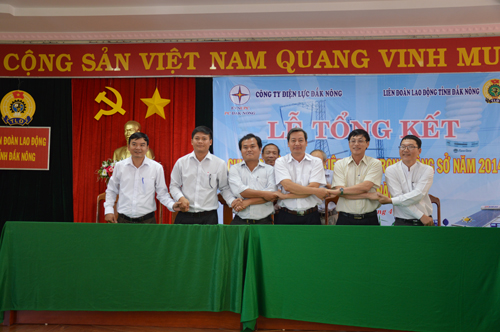 This is the movement of public communication, calling on the departments and all staff to act in response to the provincial policy of the electricity savings. The communication objects are all the government offices which spend the state budget in the provincial town of Gia Nghia, with regular time of using power, from April up to the present. Criteria for selecting the award winner are those offices which achieve savings of 10% or more within 3 consecutive months from April to June, 2015 compared to the same period in 2014.
At the launching ceremony, Dak Nong Power Company also sent brochures and documents to guide the implementation of power saving to the participants, and hung up posters, billboards on the emulation, and also published communication messages in local newspaper, and radio. At the launching ceremony, 80 agencies and offices registered to participate in the program.
To better implement the power saving in the office for the time to come, all participants are in agreement with the solution of Dak Nong Power Company to develop power use rules in offices, and workplace so that officers, civil servants, state employees and workers are conscious of, responsive to power saving, ensuring the practice of electricity savings to be performed in long-term discipline. At the ceremony, the units were enthusiastic about their commitment.
Trong Tan