Ninh Thuan Provincial People's Committee has just issued a written request to the Ministry of Industry and Trade to propose Wind Power Project, namely LandVille in Ninh Thuan (Hanbaram), as an additional item in wind power development planning for Ninh Thuan toward 2020, with Vision to 2030.
This project is proposed by Landville Energy Corporation, a subsidiary of the Landville Group Inc. (Korea) as an investor, who submitted their proposal to the provincial government of Ninh Thuan in 2011. The project is built with a total installed capacity of 140.3 MW, on 3 different plots. The total land area of this project under survey covers up to 850 hectares.
If it is approved, Landville will have the opportunity to realize their investment plans in Vietnam. However, the fact now in Ninh Thuan is that the province has 12 wind power projects in planning, but among which many, such as the renewable energy power plant Phuoc Nam - Enfinity, and "Mui Dinh" Wind Power Plant, are in slow progress.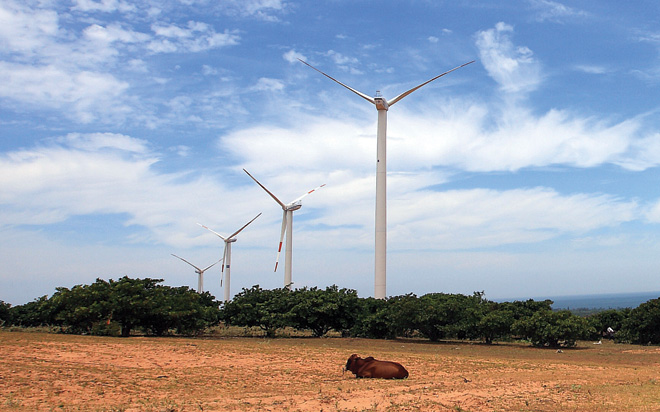 In fact, it is a common situation not only in Ninh Thuan province, but also in many other places with wind power projects. The undecided mechanisms and policies for renewable energy development are attributed to one of the main reasons that cause the slow progress for these projects to be deployed.
At the recent mid-term meeting of Vietnam Business Forum (VBF), the Power and Energy Sub-Working Group VBF frankly expressed the view that renewable energy was the best fit to support the energy demands of Vietnam in the near future, due to its possible scalability in a short time. Therefore, to develop the renewable energy, it is to create an attractive environment for investment into this sector.
"We support the recommendations of the advisory body to the Ministry of Industry and Trade on the real time price for wind power electricity production (FIT), meanwhile the registration procedures and deployment should be simplified", said the representative of Power and Energy Sub-Working Group VBF.
Concerning this issue, Mr. Sigmud Stromme, Chairman of Nordic Business Association having Ho Chi Minh city-based Office in Vietnam, also stated his viewpoint: "Please increase FIT for wind energy and simplify the investment process" and also recommended that the same policy should be applied to all power purchase/sale agreement for the biomass generated power plant and waste generated electricity plant.
Trong Tan