Under the guidance of the Ministry of Industry and Trade, Ho Chi Minh Energy Conservation Center continues the competition, "Energy-efficient Buildings" for 2016. The competition is meant for the following types: Building / Resort, Hospital, Office , School / Library, Mall / Super Market ... nationwide.
The competition participating buildings will get supports with free provision of Competition Document, survey costs for current use of energy in buildings, and technical advice from experts for energy saving solutions.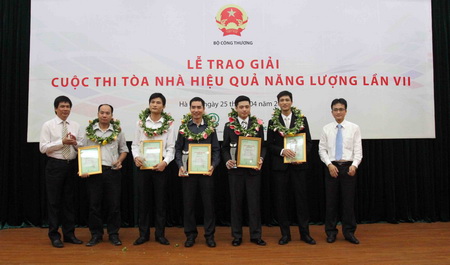 Competition Document submission for "Energy Efficient Building" Competition in 2016 will close before October 31, 2015. The Referee Council comprises representatives of the Ministry of Industry and Trade, representatives of the Ministry of Construction and experts in the field of energy efficiency.
The winners will be buildings, honored and certified as "energy efficiency building". This is also a good chance for the buildings to introduce and enhance their image at home and abroad.
"Energy Efficiency Building" competition was held for the first time in 2006. Up to now, the competition has attracted more than 400 buildings from 25 provinces and cities across the country to participate. Out of the total, 106 buildings are recognized as "Energy Efficiency Buildings" and 18 works are honored as "Energy Efficient Building in Southeast Asia".
Trong Tan