The United States Agency for International Development (USAID) and the Ministry of Industry and Trade of Vietnam have attended the signing ceremony of Letter of Intent on cooperation and development of clean energy and energy efficiency in Vietnam.
MOIT and USAID intend to focus on initiatives related to capacity in building and implementing the policies on clean energy and energy efficiency; measures to improve energy efficiency in the areas of energy use in the economy; and the capacity of the government, private sector and other stakeholders in the implementation of renewable energy for Vietnam.
The Director of USAID Vietnam Joakim Parker, said: "In the framework of this Letter of Intent, USAID and the Ministry of Industry and Trade of Vietnam will cooperate through a technical assistance program, expected to last for 5 years. We welcome this cooperation to support the strategy on climate change in Vietnam and action plans on climate change initiated by President Obama and we hope that this partnership will bring about results in development and improvement of clean energy and energy efficiency in Vietnam".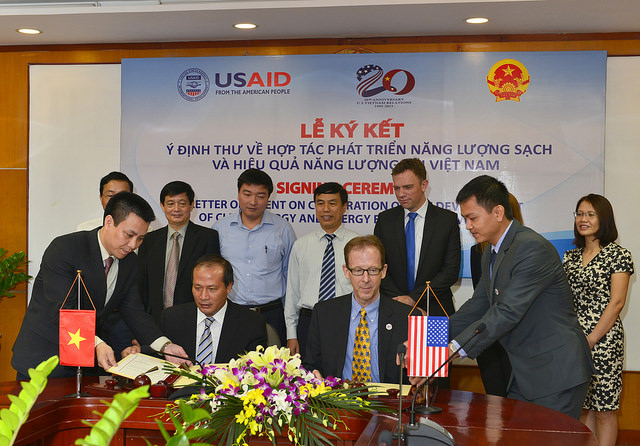 This partnership was encouraged by the Joint Declaration on Comprehensive Cooperation of Vietnam - USA approved by President Truong Tan Sang and President Barack Obama, who welcomed the "bilateral cooperation in reduction of greenhouse gas emissions in Vietnam through promoting clean energy and energy efficiency".
The two countries have reaffirmed the mutual commitment to expand cooperation on climate change in the United States - Vietnam Joint Vision Statement published in the historic visit of General Secretary Nguyen Phu Trong to the United States in early July.
USAID supports efforts to respond to climate change in Vietnam through a number of initiatives, including the Vietnam Forests and Deltas Project to be performed with the cooperation of the Ministry of Agriculture and Rural Development, Vietnam Clean Energy Project in partnership with the Ministry of Construction, and the Capacity Strengthening and Institutional Reforms Project for Green Growth and Sustainable Development to be carried out in collaboration with the Ministry of Planning and Investment and the Development Program of the United Nations (UNDP).
Trong Tan