There are specific ways in calling for energy saving in Ho Chi Minh City and initially desirable results have been achieved.
Energy Saving communication is the first solution to be deployed across the city. Useful information like how to use solar energy, the concept of energy saving bulbs, comparison of power consumption between filament bulbs and compact fluorescent light, and LED lights is available at the Display Gallery of Energy Saving Options at No. 1, Phan Dang Luu Street, Binh Thanh District, HCM city.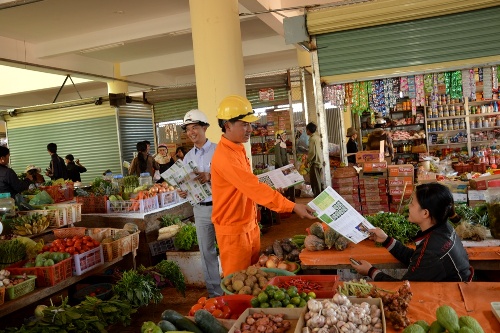 According to the General Electric Company in Ho Chi Minh City, the Display Gallery is one of the contributions into positive solutions to saving power in the city. For the first 6 months of 2015, the saved power output was up to 226.5 billion kWh. Besides, the deployment of solar energy based water heater systems is also a solution to attract the concerns of the enterprises.
The solution with commitment to save energy was launched in March, then the city became the first locality in the country where commitment to implement energy-saving targets is signed. According to calculations by the Department of Science and Technology, by 2017, the city will save over 480 million kWh of electricity, equivalent to VND 807 billion. To realize this saving, there will be about 800 solutions inducing the investment of new equipment and technology.
The final solution to the problem of energy saving today is the education on energy savings in schools. Currently, some schools use the water purifiers to treat rain water for drinking; they also apply the solar power generators, LED lighting system, which contributes to power efficiency and savings of up to 50%. These models are lessons, easy for school students to understand and to be impressed, so that the students would no longer be a verbal call but a daily habit and practice.
Trong Tan