On October 02, 2015, in Hanoi, Ho Chi Minh Central Communist Youth Union held a launching ceremony for a competition of "Adolescents propose solutions and innovative ideas about energy saving in 2015".
The competition is held for adolescents in the country at the ages of 09-35. The works submitted to the competition are initiatives, ideas of innovative solutions to economical and efficient use of energy in the fields of industry, agriculture, transport traffic, public service; initiatives and solutions to power saving in households, office buildings, schools; effective use of eco-friendly renewable energy, in which the fields of studying, productive labor and community events are prioritized.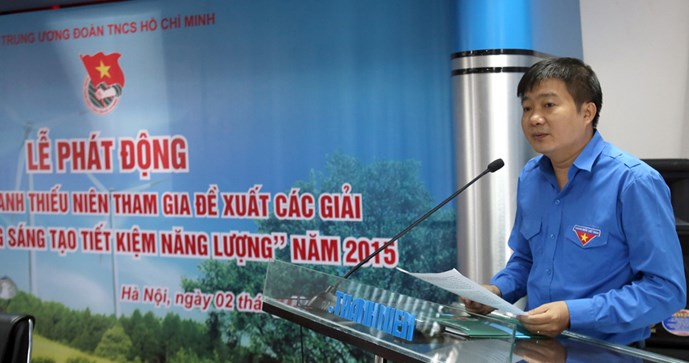 Mr. Ngo Van Khuyen, Deputy Director of Youth Worker and Metropolitan Division launched the competition
Organizing Committee of the competition will offer 2 first prizes,value at 7 million dong each; 2 second prizes, 5 million dong each; 3 third prizes, 3 million dong each to individuals and organizations having excellent works. Summary and award ceremony expects to be held in Dong Nai in the occasion of Vietnam Youth Creativity Festival 2015 organized at the end of November.
Individuals and organizations are advised to submit their works to the organizing committee of the competition before November 15, 2015, to the following address: Youth Worker and Metropolitan Division of Central Communist Youth Union, No. 60, Ba Trieu Street, Hoan Kiem District, Hanoi; or submit to email address: sangtaotre09@gmail.com.
Anyone interested in the competition is advised to contact the organizing committee by phone on 04.62631999 (extension: 521) to get further information.
Ngoc Anh