The Review Meeting on Program "Cultural Hamlet of Electricity Savings" was held by the Vinh Long city Power Company in cooperation with the People's Committee of Ward 5. The program had been deployed in 6 residential clusters in the area. The Review Meeting was held 1 year after the launch of the competition, attended by the leaders of Vinh Long City Power Company, representatives of Ward 5 Party Committee, People's Committee, Fatherland Front Committee, the related sectors, and people representing the 6 residential clusters as well as the households in wards 5.
There are 402 households in Ward 5 - Vinh Long City registered in the emulation, they applied power-saving measures such as turning off lights, fans and electrical devices when these devices were not in use, putting into use the power-saving lights. Out of the emulation, 215 households achieved the power saving criteria (52.5%). At the ceremony, Cluster 1, Cluster 2 and 20 households in Ward 5 were rewarded.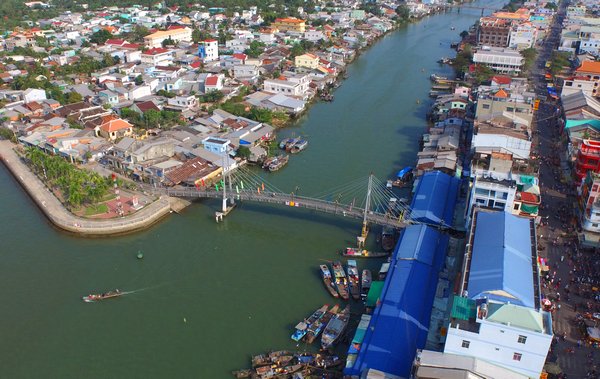 Arial view of Ward 5 - Vinh Long City
Along with the review ceremonial meeting of the Emulation Program held by Vinh Long Power Company and Ward 5, recently, the program "Cultural Hamlet of Electricity Savings in 2015" was also reviewed by Long Ho Electricity Branch. During the movement, Long Ho Electricity Branch selected two communes: Long Phuoc and Long An to join the competition with the participation of more than 1,000 households. The outputs show that in the whole district the people saved hours of electricity consumption, in monetary terms it was accounted at VND2.75 billion. On this occasion, Long Ho Electricity Branch also commended for 2 typical groups and 33 households for their achievements in power savings.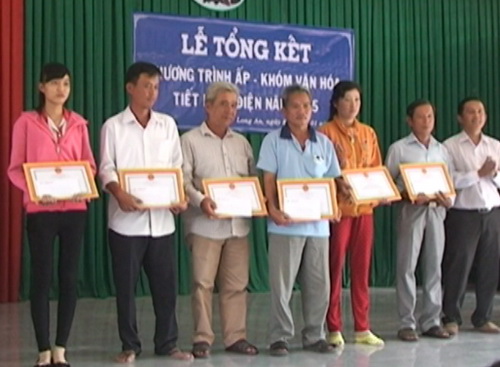 Long Ho Electricity Branch handing over the rewards to individuals and collectives
In reviewing the obtained results, it is thought that the "Cultural Hamlet of Electricity Savings" should be further replicated in other locations. The implementation of this program will contribute to national energy security, safety and efficiency in the use of power and meet the power demands of production and people's daily life.
Trong Tan