The wind power plant with a designed capacity of 99.2 MW Lieu was officially inaugurated on January 17, 2016 at the coastal tidal flat of Vinh Trach Dong commune, Bac Lieu town. The project construction started on September 9, 2010, by "Cong Ly" Construction - Trade and Tourism Company (Ca Mau province) as the investor, with total capital of VND 5,217 billion.
Among the attendants were Deputy Minister of Industry and Trade - Mr. Cao Quoc Hung. At the ceremony, the Deputy Minister proposed that the Bac Lieu Provincial People's Committee should provide guidance to the Department of Industry and Trade to coordinate with the investors in the management and operation of the project to ensure the quality and effectiveness; while requesting the Bac Lieu Provincial People's Committee and the investors to continue the reviews and supplements for filling in the gaps in the master plan so that the extensive development of wind power in the province could be realized.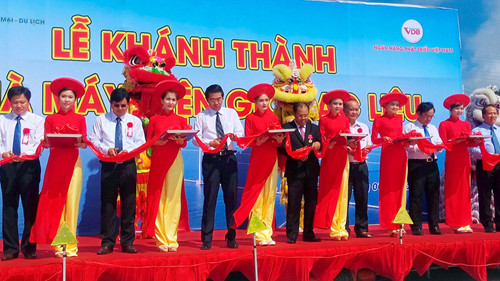 Festivitive like Inauguration of the Bac Lieu wind power plant on January 17, 2016.
The Project has 62 wind turbines, with power production of about 320 million kWh /year, over the construction area of 1,300 ha. Since the first wind turbine of the plant was put into operation in May, 2013, by now the total electricity transmitted into the national grid reaches 130 million KWh, with total turnover of VND150 billion.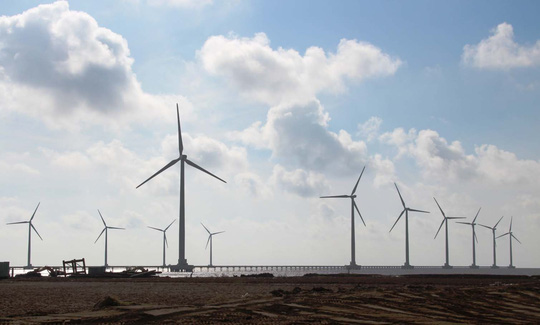 Bac Lieu Wind Power Plant has been completed after 48 months of construction.
Also at the ceremony, Mr. To Hoai Dan - the Share holder Chairman of "Cong Ly" Construction - Trade and Tourism Company said: "In the time to come, we will work on the pre-feasibility report for the next phase of 71 wind turbines of 2MW type with a total capacity of 142MW. The total investment is estimated at VND8,850 billion. The construction duration is 36 months, and expected to be completed by the end of 2018, and put into operation, and transmitted into the national grid, turning the location into the largest wind power field of the Mekong Delta".
Trong Tan