Hanoi, HCMC, Hoi An and other 60 cities and provinces across the country has together turned off non-essential lights from 20h30 to 21h30 on March 19th in response to Earth Hour 2016.
At the August Revolution Square Hanoi, 5,000 people joined the countdown event and witnessed the symbolic action of turning off unnecessary electrical devices, which contributed to spread the word about "Small Action, Big Significance". The whole event was broadcasted live on VTV1 – Vietnam Television.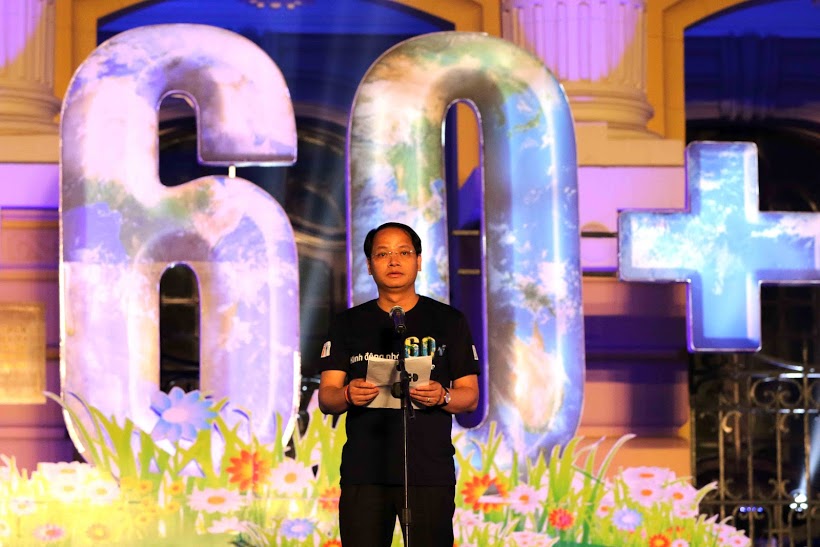 Mr. Nguyen Ngoc Tuan – Vice Chairman of Hanoi People's Committee was delivering a speech.
At the HCMC Youth's Cultural House, the event has drawn great attention of the community to raise voices and call on a shared commitment to combat climate change.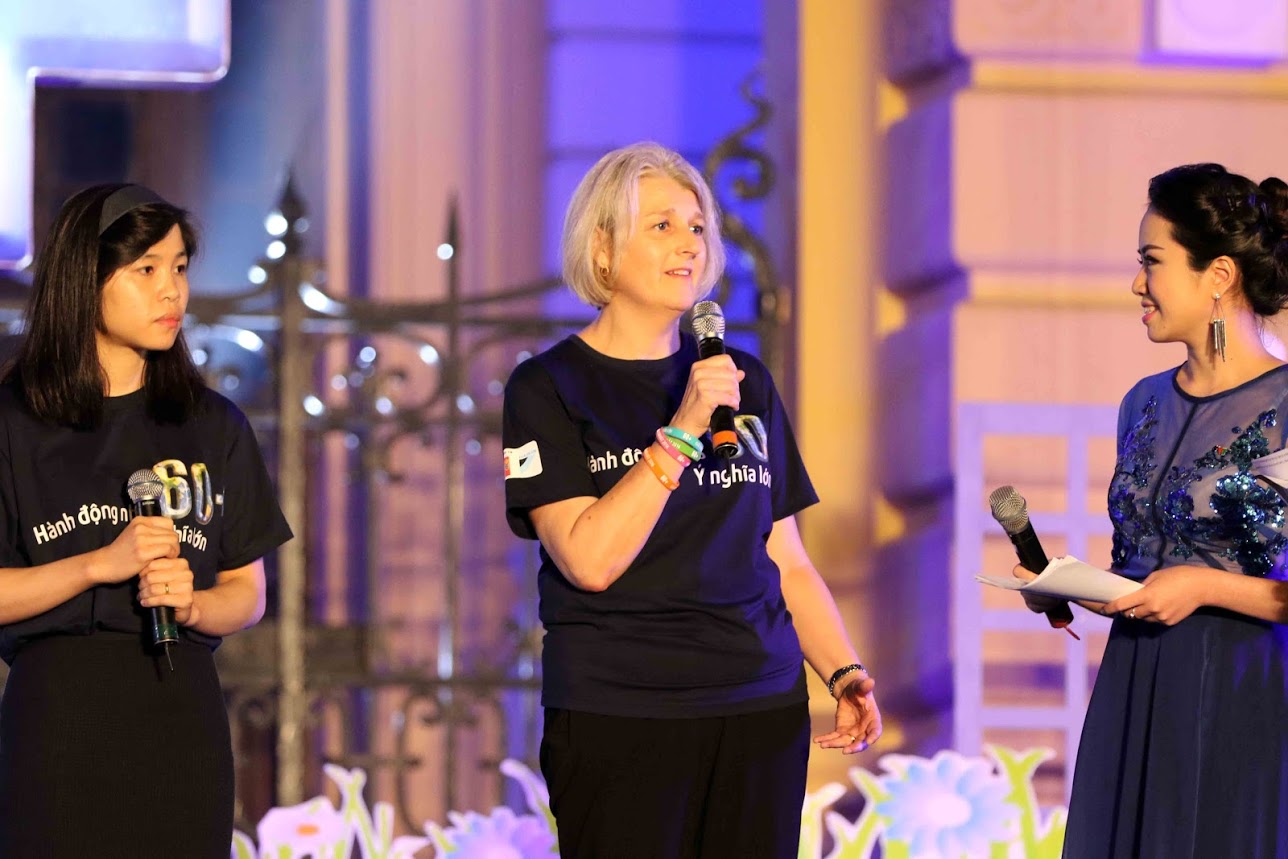 Danish Ambassador to Vietnam, Ms Charlotte Laursen
Earth Hour Campaign 2016 has been held under the guidance of Ministry of Industry and Trade, with the support of Vietnam Electricity (EVN), the Embassy of Denmark in Vietnam and Daikin Vietnam. Among them, EVN has worked as a main sponsor for the Earth Hour campaign for 8 consecutive years.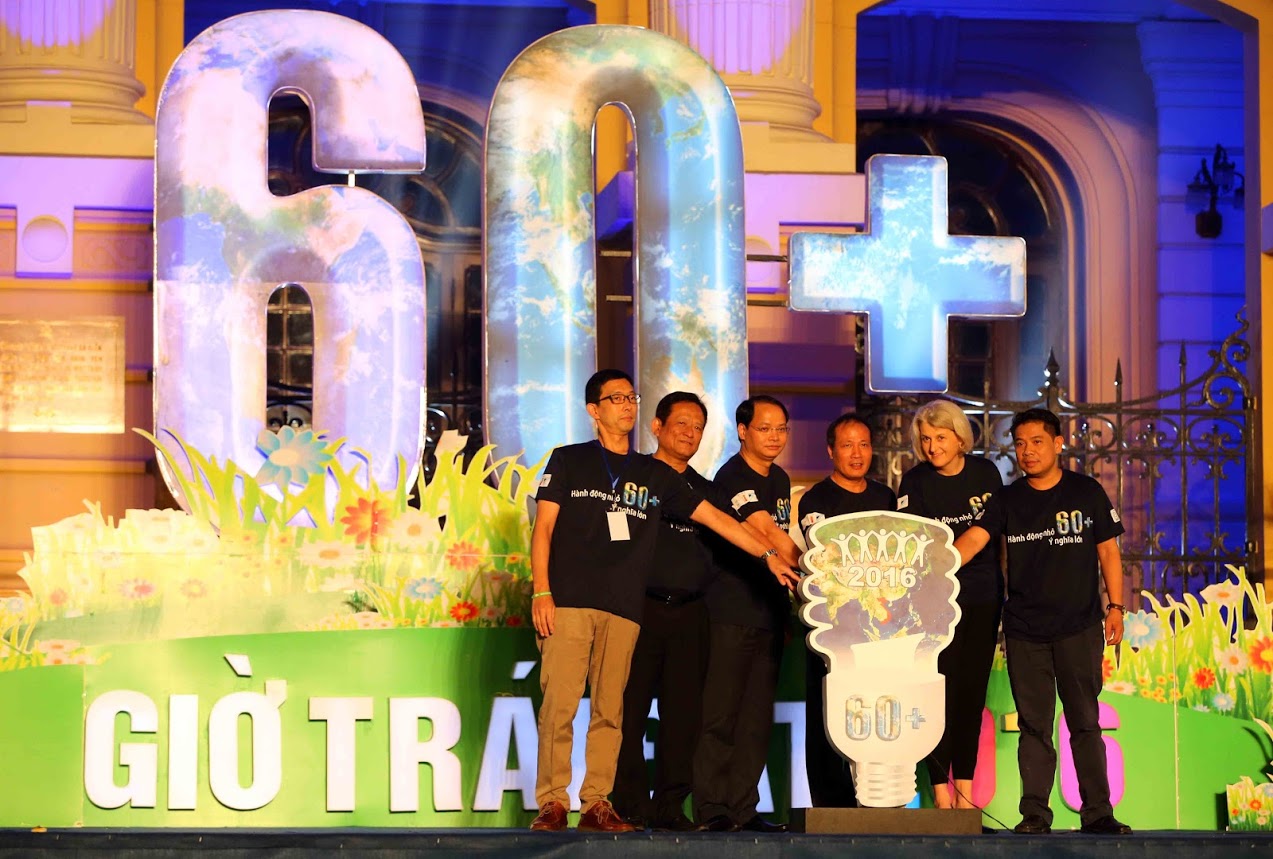 Delegates have started the light-off event at the August Revolution Square.
Earth Hour is the world's biggest environmental event which attracts mass participation of people. The campaign was initiated by the World Wide Fund Nature (WWF). Until now, over 7,000 cities in 172 countries and territories worldwide have actively participated in the event.
According to the National Load Dispatch Centre's analysis, Vietnam has successfully saved 451 MW or 451,000 kWh of electricity, equivalent to 731.5 million VND.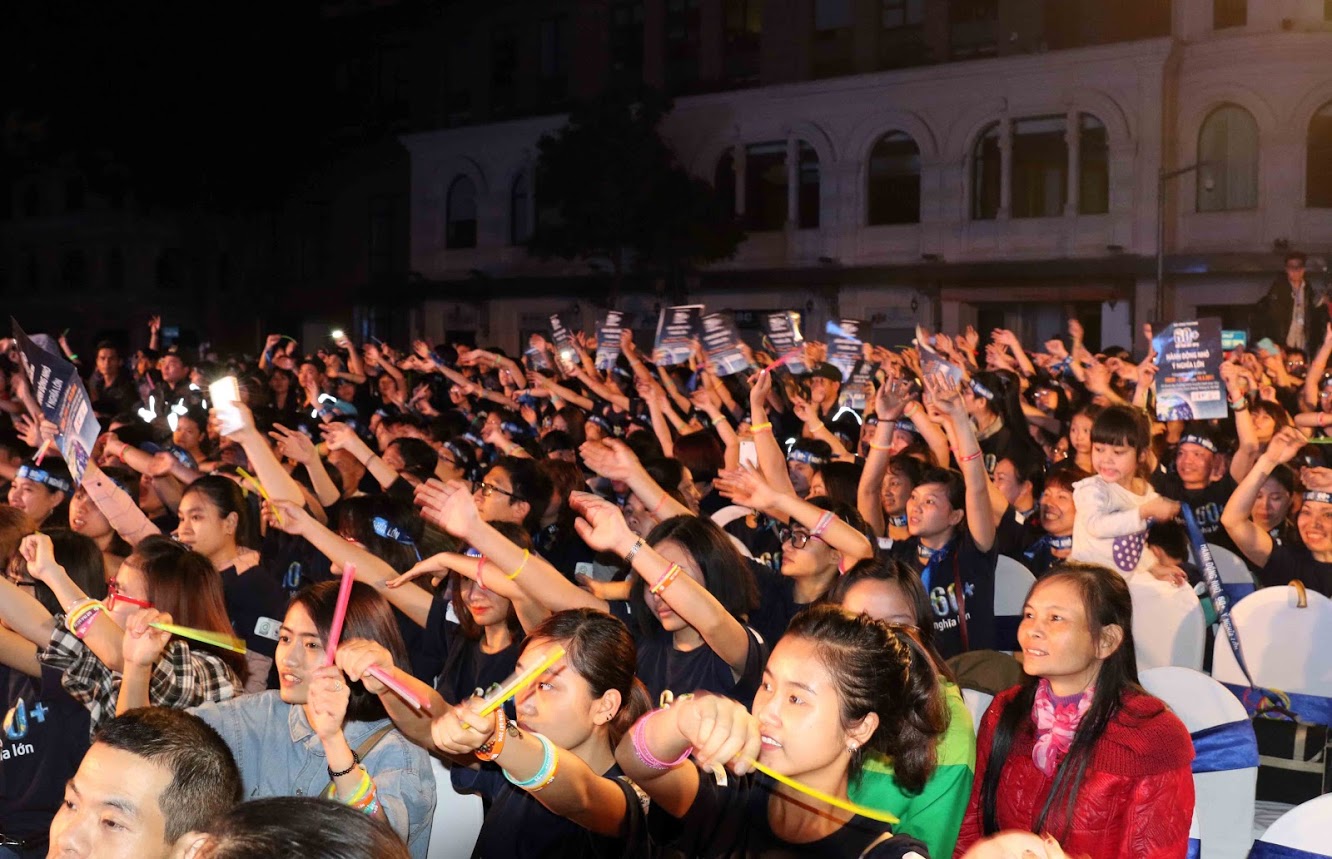 Thousands of young people took part in the light switch-off event this year.
The campaign aims to inspire and encourage people to take actions on saving the environment and fighting against climate change. Small actions each day can make powerful impacts to save energy, protect our climate and Mother Earth.
Joining Earth Hour Campaign, Vietnam has committed to cut 8% of carbon emissions by 2030 to cope with climate change and global warming.
Hanoi to response to Earth Hour Campaign
Hanoi has actively responded Earth Hour Campaign since 2009. Through years, Ministry of Industry and Trade has worked with Hanoi People's Committee to organize and direct the implementation of Earth Hour campaign, which has resulted in the large-scale participation of 63 cities and provinces across the country.
At the 16th Congress of Hanoi Municipal Party Committee, all participants approved the draft resolution which specifies the future development pathway as driving economic growth, upgrading new growth model, urging the quick but sustainable development goals as well as utilizing all resources efficiently and actively coping with climate change.
Hanoi has effectively responded to Earth Hour 2016 with the main purposes of implementing the Law On Economical and Efficient Use Of Energy and the Prime Ministerial Instruction No 171/CT-TTg dated January 26th on efficient electricity use; raising the public's awareness of saving energy, protecting environment and fighting against climate change, pushing forward with a low-carbon economy; encouraging the voluntary participation of individuals, organizations and businesses to take action to tackle climate change and successfully accomplishing the "Year of urban order and civilization 2016".
At the event, Mr. Nguyen Doan Toan, Vice Chairman of Hanoi People's Committee, mobilized all citizens, individuals, agencies and organizations to respond to Earth Hour Campaign via a series of activities such as turning off non-essential lights, saving water, plant more trees, making a habit of energy saving and environment protection throughout the year. By this way, each individual contributes to create and promote a new and elegant image of Hanoi to visitors both at home and abroad.
Thousands of people in Hanoi have joined Earth Hour 2016. Over 800,000 people committed to turn off the unnecessary electrical devices for an hour during the light-off event, from 20h30 to 21h30 on March 19th.
Below are some photos from the event: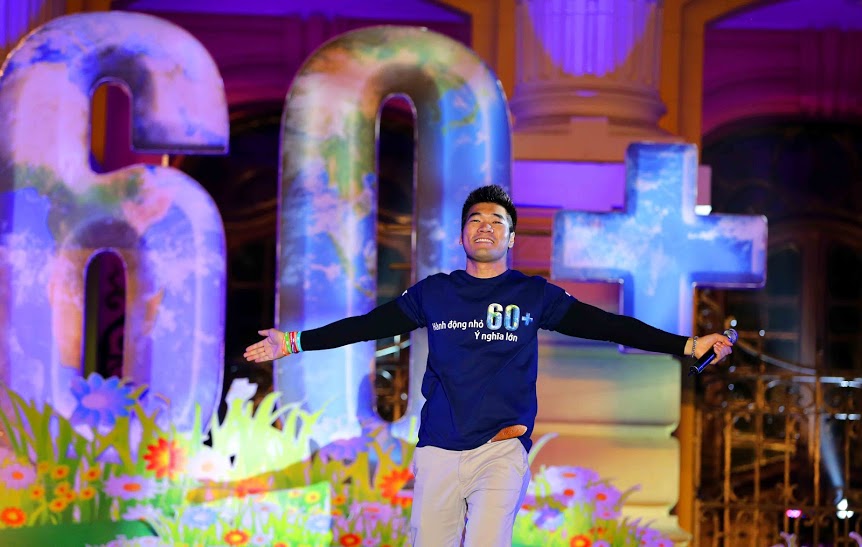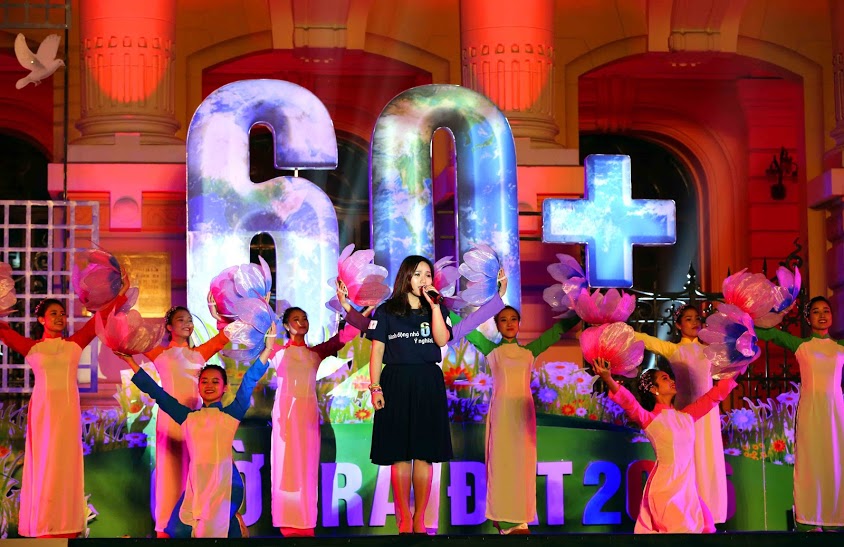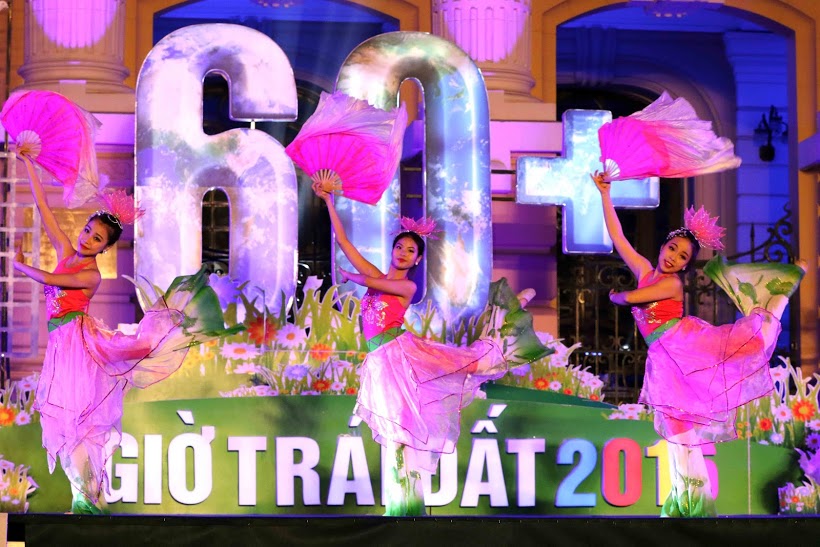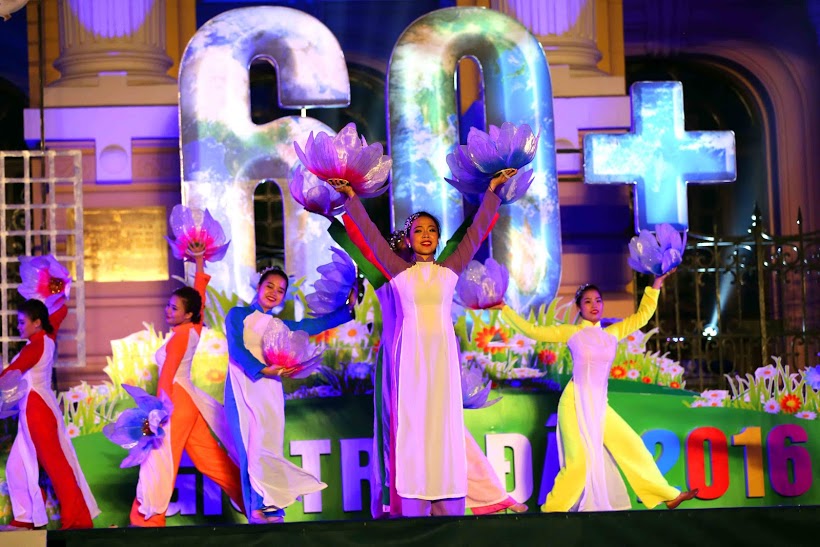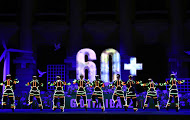 The dance performances during the event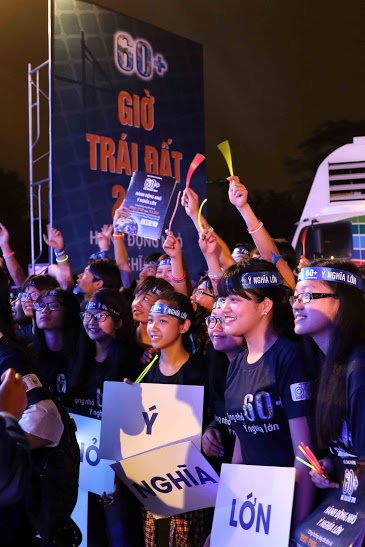 The volunteers with the meaningful banner "Small action, Big Significance"
Thanh Thao