Dragon fruit trees (Pitaya) belong to the photophilic plant species, with basal shallow roots, thus the soil for dragon fruit tree cultivation must be porous, ventilated; free from alum, salinity; and particularly not covered with shade exceeding 30% of the lighting. In the Mekong Delta, Tien Giang province is one of the areas specializing in large dragon fruit tree with an area of over 2,000 hectares and yield of over 40,000 tons/year. In recent years, many dragon fruit growers in Tien Giang have been applying electric lighting to stimulate the off-season flower blooming. Reportedly, the artificial lighting model for off-season flowering of dragon fruit trees is applied on 75% of the dragon fruit cultivated area in the province. Compact lamps are also used for warming the dragon fruit trees, it does not only help ensure crop yield but also shows as saving up to 70% power consumption.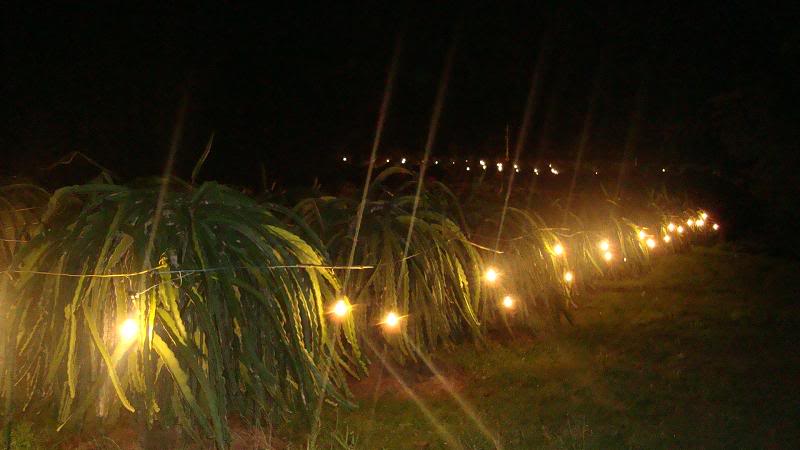 Dragon fruit trees are under lighting for off-season flowering in Tien Giang
In Cho Gao district, the electricity sector has supported the dragon fruit growers to change the lighting apparatus, with approximately 10,000 compact fluorescent light bulbs, with promotional messages about the benefits of using the power-saving compact fluorescent light bulbs in replacement of incandescent bulbs, also to secure the electric main sources connected to the lighting. Thereby, it helps dragon fruit growers save 2/3 electricity consumption, because the lighting shows the same effect with the 60 W incandescent bulbwhile the compact bulb is only 20W, resulting in dozens of million VND saving annually.
Currently, in the context of the electricity price increase, the solution of dragon fruit tree warmingfor off-season flowering with the application of compact bulb lighting has brought significant effect. It helps the dragon fruit growers reduce the cost of production, increase their income, and contribute to the power saving policy.
Trong Tan