Recently, Ha Tien Electricity (Kien Giang Power Company) in collaboration with the Education Office of Ha Tien town held the contest "Understanding the Economical and Efficient Use of Electricity" in elementary schools namely: Phao Dai 1, To Chau, Cu Duc, and Giang Thanh. This is the first time the program has been held in the town schools.
Anyhow, the program attracted the attention, lively response and enthusiasm of many students. In the contest, school students were given the leaflets, flyers, picture brochure on power-saving prepared by the SouthernElectricity Corporation containing communication messages, the methods for economical and efficient use of electricity. Besides, for the poor students who overcome difficulties, the Ha Tien Electricity also gives them the notebooks, with a total of 3,700 200-paged notebooks bearing useful power saving messages on the cover.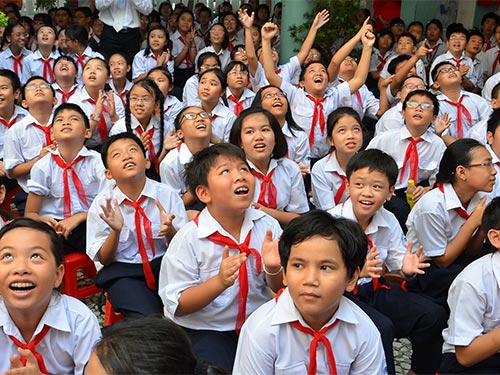 In 2016, the program will continue being carried out in the primary schools in the suburban town with more than 4,000 notebooks from the power-saving communication program of the Company.
The Contest on electricity use with savings, safety and efficiency in schools helped school students raise awareness, improve behavior in the economical use of electricity. This is also a useful playground for the school children, to help them formulate their good habits of saving electricity as a contribution to exerting positive impact on families, friends and their relatives.
Trong Tan