As the only enterprise in the field of aviation engines in Korea, one of the top 10 advanced technology companies in the world, in 2018, Hanwha officially invested in a factory to manufacture aircraft engine components at Hoa Lac Hi-Tech Park, Hanoi. Every year, Hanwha consumes about 2,007.7 TOE. However, operating in the high-tech field, in addition to a modern production line system that is integrated with 4.0 technology, energy saving, to optimize costs and minimize CO2 emissions in the production process, Hanwha has actively implemented many investment solutions to improve energy efficiency.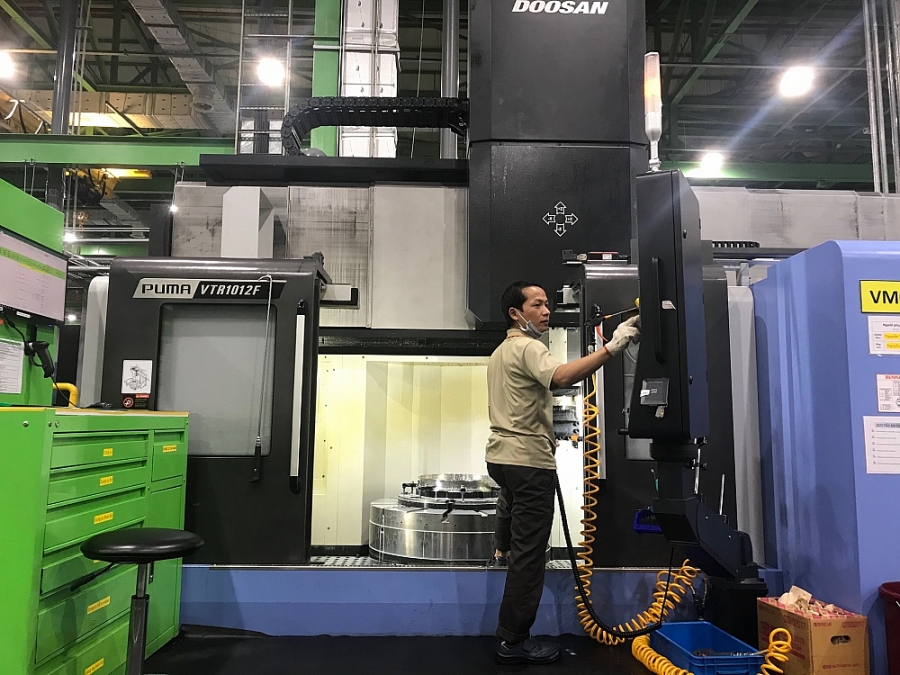 Hanwha's high-tech chain system
Accordingly, for internal management, Hanwha has seriously performed periodic maintenance according to the plan. In particular, the company installed 2,660 solar panels on the roof of the factory with a capacity of 934kWp. By the end of 2020, this rooftop solar power system has provided production activities at Hanwha's factory with more than 1.5 million kWh. Calculating according to Hanwha's 2019 electricity consumption of 12,922,600 kWh, the ratio of self-produced electricity from solar energy compared to the company's purchased power is 11.6%.
Mr. Nguyen Thanh Hai - Deputy Director of Hanoi Department of Industry and Trade - said that this result is especially important for businesses, especially those participating in the global supply chain. In order to compete with other suppliers, it is not only necessary to achieve outstanding quality, but the products are manufactured from factories using a part of renewable energy, are environmentally friendly, and have a low energy consumption index for their products. That will be a competitive advantage for businesses in the context that many FTAs ​​that Vietnam participates in are governed by regulations on reducing CO2 emissions in production and trade activities.
In addition, to improve energy efficiency, right from the time of investment and construction in 2018, the entire lighting system of the factory was designed by Hanwha and applied with energy-saving LEDs. In addition, the company has also equipped capacitors at the substation; All operations of compressors, chillers, electricity... in the factory and office use the Scada system to monitor. At the same time, the air compressors are also equipped with a water cooling system, while the centrifugal air compressors are equipped with a hot air pipeline system to increase the efficiency of the device.
With the characteristics of manufacturing aircraft engine components, Hanwha's entire production line system is highly automated, imported from abroad, the production stages are mainly machining, cutting, turning and with high precision... In order to effectively manage energy as well as control energy consumption for each production stage and product category, Hanwha has applied automation solutions, resulting control network connection, application of "Industry 4.0" technology in energy use. This solution has helped Hanwha increase energy efficiency. With the above solutions, Hanwha's total energy savings in 2018 - 2019 reached 712,250 kWh, equivalent to a saving of VND 1.4 billion.

In 2020, Hanwha Company was approved by the Hanoi People's Committee has certified a 4-star green energy user for key energy users in industrial production. With energy saving plan in the next 5 years, Hanwha sets a goal of saving 1,187,083 kWh, equivalent to a savings of 2.4 billion VND.
Ha Tran