In recent years, many effective and innovative energy-saving solutions have been invested in order to optimize energy use, such as: using energy-saving ventilation and air-conditioning systems, and energy saving systems. Smart lighting, waste heat utilization, use of environmentally friendly materials and green architectural solutions... Investment in energy-saving solutions in construction has brought significant profits to investors.
The Hi-tech Center building belongs to the Telecommunication Service Corporation can be set as a good example. Built in Xuan La ward (Tay Ho district, Hanoi), the building has a total floor area of ​​20,207 m2, the total energy consumption per year reaches 634.7 TOE. The building is designed with features that make the most of natural light and wind, and the materials used in the building have good insulation capacity. In order to improve the efficiency of energy conservation, the building has gradually replaced 500 compact light bulbs with a capacity of 40W in office areas and corridors to 7W LED lights with a usage time of 14-24 hours/day. This solution has helped the building save 50% energy consumption compared to using compact light bulbs.
In 2020, the building performed an energy audit. The results showed that the total energy savings of the building in 3 years reached 239,931 kWh, equivalent to a savings of 0.44 billion VND. Thus, on average, each year the building saves more than 140 million VND on energy costs.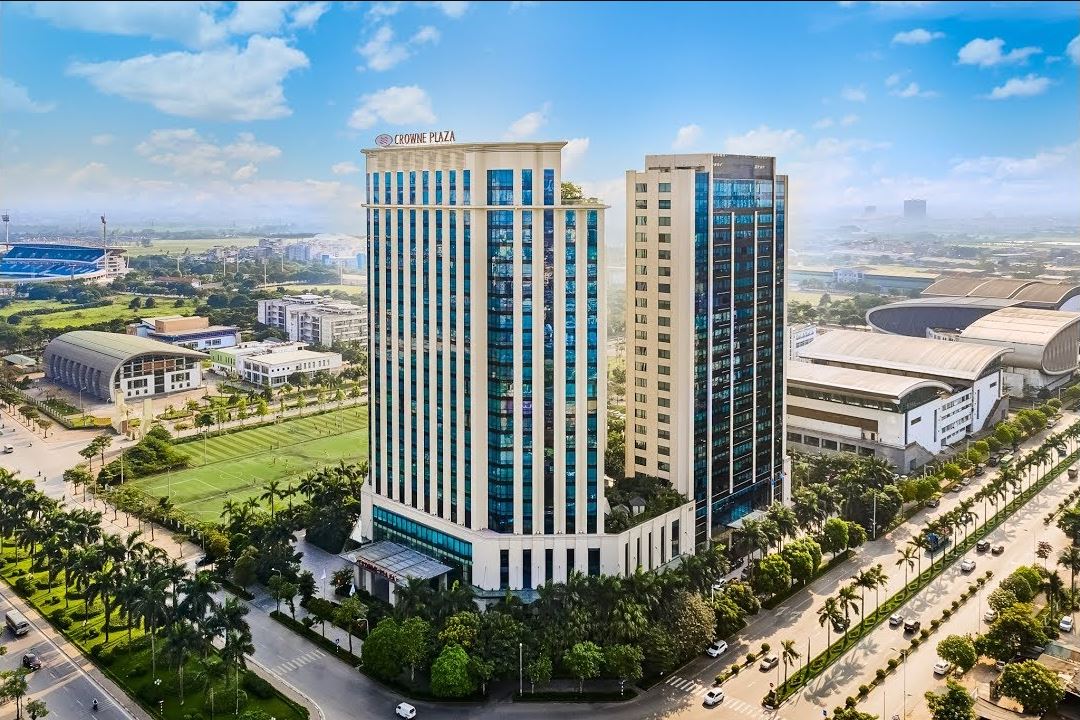 Crowne Plaza West Hanoi building has saved 3-5% electricity and DO oil consumption, helping to reduce emissions of more than 7000 tons of CO2 into the environment
Another project that is also at the forefront of applying many energy-saving solutions is the Crowne Plaza West Hanoi building invested, managed and operated by Tran Hong Quan Trading Co., Ltd. % electricity and DO oil, helping to reduce emissions of more than 7000 tons of CO2 into the environment.
The building is invested with equipment, high automation and energy-saving technology thanks to the policy of using new and renewable energy sources as well as implementing state regulations in energy efficiency improvement activities. Every year the building has been implemented with a plan to replace and invest in energy-saving equipment and solutions with a small investment and high economic efficiency in advance.
Or as at Me Linh Plaza Center, it has reduced and redistributed unnecessary lighting areas, replaced all 6,000 T10 ferromagnetic ballasts with T8 electronic ballasts, installed a system compensating cabinets at substations, ensuring that the power factor cosφ is always above 0.9. In addition, Me Linh Plaza has divided and installed meters for each main energy consuming area, and set the corresponding air conditioner temperature for each area from 26oC or more. Furthermore, install a fan system to limit air conditioning heat loss. With these solutions, Me Linh Plaza Trade Center has saved 440 million VND in electricity costs.
Assessing the possibility of energy conservation in construction works in general and commercial buildings in particular, Mr. Nguyen Dinh Hiep - Vice Chairman cum General Secretary of the Vietnam Energy Conservation and Energy Efficiency Association (VECEA) said: Buildings, commercial centers, air conditioning systems and ancillary equipment are among the most energy consuming systems. They are being used with old technology, low efficiency, consuming a lot of electricity.The cold water and wind pipeline system has not been properly insulated, leading to large heat loss on the pipeline. If these problems can be solved, the opportunity to save electricity for the buildings is huge."
In order to contribute to ensuring the achievement of the goal of energy-saving and greenhouse gas emission reduction approved by the Government within the framework of the National Energy Efficiency Programme in the period of 2019-2030 (VNEEP 3), the Ministry of Industry and Trade has sponsored and assigned the Vietnam Energy Conservation and Energy Efficiency Association to launch the "Energy Efficiency in Construction 2021" Award. The award aims to honor effective, innovative and typical energy-saving solutions in construction works, thereby creating social effects, making positive contributions to socio-economic development goals, green consumption orientation and sustainable development of the country.
Ha Tran