The automotive industry dreams of the utopian "green factory", with lower energy consumption and subsequently reduced energy costs. With the combined technical know-how of Murrelektronik and Univer offering energy saving electrical clamp solutions, car factories are one step closer to achieving that dream.
Energy saving electrical clamping technology
In the body shop, many metal sheets and parts are attached to the frame. Before the parts can be welded they must first be fixed in their exact position, which requires many individual clamps. Conventionally, these clamps are pneumatically driven but recently there has been a growing demand for electrical clamps.
"An electrical drive with an efficiency rating of over 80 per cent is considered to be considerably more efficient than pneumatic drivers," explains Markus Oerder, managing director of Univer GmbH.
"However, when cost factors into the equation, electrical components only make sense when pneumatics are no longer needed for assembly. This is why electrical clamps are an interesting choice when welding tongs, cutters and lifting units are already electrically driven."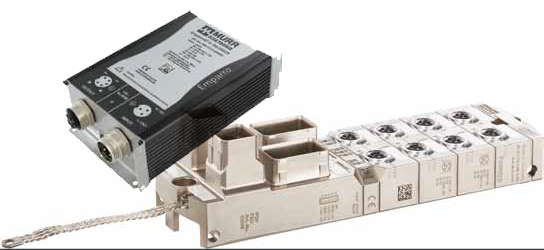 Processes and functions can be carried out individually
Costs are merely one part of the equation though, because electrically driven units also offer technical benefits. For instance, unlike with pneumatics, processes and functions can be carried out individually. This is required for body shop applications, where different models are produced in individual lines.
But electrical clamps are still not universally accepted, according to Oerder. "The price is higher at the moment because of the quantities being used and also from the investment costs caused by switching over to electrical components," he says.
"If you compared the prices based on the same quantities and calculated this against necessary, new installations, the prices would be similar. Moreover, engineers often assume electrical solutions can only be designed with expensive, special constructions and many accommodations for the power supply."
Murrelektronik components come into their own
It became obvious that electrical clamps (operating a 24V voltage) require a relatively high current when starting up and during the actual clamping process. Therefore, it is important to produce and distribute energy that can operate up to 5,000 clamps per system. This is where Murrelektronik components come into their own.
"The discussions with Univer showed that Murrelektronik could drive the electrical clamp using standard components," says Peter Ohr, Key Account Manager Automotive at Murrelektronik. "We immediately started endurance testing that proved successful."
"To control the clamps, they can use a standard MvK Metal module that is already installed in high quantities in many automotive plants. This also means they can use a proven technology. They don't have to get familiar with new technology and no new spare parts are required for maintenance. With Emparro67, Murrelektronik provides the appropriate solution for an intelligent power supply."
Playing a leading role in clamping technology
Together with Univer, Murrelektronik built a prototype to demonstrate how easy this procedure really is and now use this to present the concept to engineers in automotive plants. So what is the future for such a solution?
"Our aim is playing a leading role in clamping technology," says Oerder. "Therefore, we are studying the latest technologies and we make the corresponding investments. This is why integrating electrical clamping technology plays an important role for us.
"To implement them in the markets, we are looking for a partnership. Together with Murrelektronik we can present an innovation in car body construction," he adds.
Truong Duy