FuelCell Energy, Inc. FCEL, -1.18% a global leader in the design, manufacture, operation and service of ultra-clean, efficient and reliable fuel cell power plants, announces significant progress towards achieving commercial deployment of its solid oxide fuel cell (SOFC) technology, naming three projects selected by the U.S. Department of Energy (DOE) for funding support. The projects are designed to demonstrate performance and commercial-readiness, further reduce both product and manufacturing costs, and validate hydrogen production utilizing the SOFC technology in an electrolysis configuration.
"FuelCell Energy is a leader in developing innovative clean power generation that enhances energy resiliency and security in an environmentally-friendly manner and contributes to the growth of our economy with domestic manufacturing," said Congresswoman Elizabeth Esty (CT-5). "The vision and support from the Department of Energy is a testament to the groundbreaking work being performed by the FuelCell Energy team."
"These projects validate our solid oxide technology and readiness to continue advancing commercialization of our solution for sub-megawatt commercial applications and storage opportunities," said Chip Bottone, Chief Executive Officer, FuelCell Energy, Inc. "We are ready to expand our applications and confirm cost and performance profiles."
Commercialization with 400 kilowatt project
FuelCell Energy is operating a grid-connected 50 kilowatt solid oxide fuel cell power plant at its facility in Danbury, Connecticut and currently building a 100 kilowatt SOFC plant for grid-interconnection that is expected to be operational in 2016 in Danbury. The next step in SOFC commercialization is a larger project at a prominent commercial site. With the support of the Department of Energy under a recent notice-of-selection for a $10.9 million cost-share project, FuelCell Energy will install and operate a 400 kilowatt SOFC system. The Company expects to finalize the award in the next one to two months, conclude negotiations with a site host and complete DOE review by the end of 2015, and then undertake fabrication and installation. This project is a significant step in commercializing SOFC technology for sub-megawatt applications.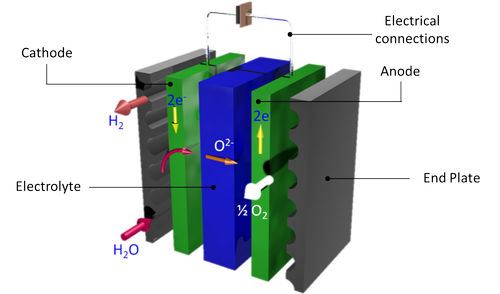 SOFC Manufacturing
The second FuelCell Energy project selected by the DOE is focused on automated manufacturing, utilizing continuous flow with consistent high quality and within market-competitive cost parameters. The project targets cost reduction in the design and advancing the reliability, robustness and endurance of the fuel cells. The project term is approximately 18 months and the $3.125 million cost-share award is expected to be finalized with the DOE within the next one to two months. The University of Connecticut (UCONN) is a sub-contractor on the project supporting the materials cost-out efforts and aspects of the automated manufacturing processes.
"We have extensive experience in reducing product costs and leveraging manufacturing scale, as demonstrated by our commercial carbonate megawatt class power plants," commented Mr. Bottone.
The projects will be undertaken at facilities in Danbury, Connecticut and will be supported by the research and development team at Versa Power Systems, a wholly owned subsidiary of FuelCell Energy, and sub-contractor UCONN.
Electrolysis for hydrogen production
The third project, supported by a $1.3 million cost-share award from the DOE's Fuel Cell Technologies Office, is adapting existing SOFC stack technology for hydrogen production application by achieving electrolysis through a solid oxide electrolyzer cell (SOEC) at very high efficiency and within established cost parameters. A solid oxide electrolyzer cell (SOEC) is a SOFC that essentially runs in reverse, utilizing an electric current, to produce pure hydrogen and oxygen in a clean and efficient process.
"Hydrogen production via a solid oxide electrolyzer cell is a very promising method of generating hydrogen from water due to its very high conversion efficiency and low energy input requirements," said Tony Leo, Vice President Applications & Advanced Technology Development, FuelCell Energy, Inc. "Solid oxide fuel cell technology is the most efficient adaption of fuel cell technology for electrolysis and our fuel cell stack operates in either power or electrolysis mode."
Hydrogen produced from SOEC can be stored and used for grid-power, hydrogen fueling stations or for industrial purposes as an alternative to natural gas reforming. SOEC can also be applied as a clean and highly efficient solution for storing excess power produced by intermittent technologies when their output exceeds the needs of the electric grid. The capability to switch between electrolysis mode and fuel cell mode means that a hydrogen based storage system can be configured with only one set of fuel cell stacks, instead of separate systems for electrolysis and power generation operations, substantially reducing cost.
The Company's SOFC technology generates industry-leading electrical efficiency of approximately 60 percent plus usable heat for combined heat and power applications, resulting in total estimated thermal efficiency between 80 and 85 percent. The technology is also fuel flexible, with the ability to utilize coal syngas, clean natural gas, on-site renewable biogas or directed biogas. Fuel cells electrochemically convert a fuel source into electricity and heat in a highly efficient process that emits virtually no pollutants due to the absence of combustion.
Anh Tuan