On December 16, 2015, Da Nang Department of Transport held a workshop on development of sustainable and green indicators of Da Nang City, directing towards the development under Vietnam National Green Growth Strategy published by the Government over the past time.
Green development in all aspects
The World Bank proposed to support Da Nang in developing and implementing Sustainable and Green Development Indicators. In the past few years, the World Bank has provided supports for Da Nang in expansion of existing infrastructure, drainage projects, improvement of living conditions of local people and advancement in the quality of urban living. For the proposal of support for development of Sustainable and Green Indicators of Da Nang, it is expected to make Da Nang become a green city, ensuring good quality of land, water, safe and healthy air for residents as well as for domestic and foreign tourists travelling and living in Da Nang.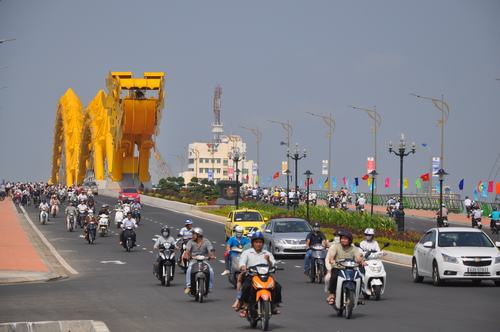 The Indicators consists of 8 green topics, including green transport; clean drinking water; solid waste management; clean air; renewable energy and carbon dioxide; green land use; waste water management and healthy economy. All the green topics are developed under 3 basic targets on the growth of Da Nang City, namely sustainable environment, healthy economic competition, fair and appropriate social conditions. Based on the reality of the world, these targets can be green topics which have mutual influences and together supply sustainable environment in the long term.
These indicators can help Da Nang have better management of environmental pollution and degradation, and deal with environmental risks. By these indicators, it is expected to raise awareness of the people and international organizations in Da Nang about environmental protection and healthy growth of Da Nang City.
Delivering speech at the workshop, Mr. Le Van Trung, Director of Da Nang Department of Transport, commented that these indicators were proposed on the basis of the experience in green growth of developed countries in the world and the practical conditions of Da Nang at present and in the coming time. These indicators will be an effective measure to assess and build an action plan of modern, sustainable and green city.
Da Nang city hopes that these indicators will be an effective tool in identifying and performing the targets to a city with green and sustainable development, a city worth living in 2025. It is expected that the indicators will be developed; therefore, Da Nang will become the first city in the country to establish and perform the green and sustainable development indicators, as stated by Mr. Nguyen Ngoc Tuan, Vice-chairman of People's Committee of Da Nang city.
Ngoc Anh