Twenty four households in Ho Chi Minh City were awarded by Electricity of Vietnam with certificates of merit and prizes on January 26, 2016 for typical power savings during three consecutive years from 2013 to 2015. These households save electricity over 10%/year to 70%/year. Some households could have managed to save a fortune through conventional power saving modus operandi. Others could save even more thanks to their "exceptional adroitness" which would be unknown were it not told.
LED bulb replacement and solar battery installation
Ms. Nguyen Thi Mai (Thong Nhat road, Ward 16, Go Vap district) used to pay the bill of about VND2 million/month for her family of eight adults in the previous years. Last year, she replaced all the light bulbs with LED bulbs, and proportionally redistributed the lighting positions in relevance to the demands. She also shifted the drinking water supply to bottled drinking water so that she did not have to boil water, only in case of boiling water needed for coffee, and tea. The laundry was shared for the whole family to utilize the full capacity of the washing machine, rather than the individual separate laundry as it was done before. So in 2015, her monthly bill was only about VND800,000.
The household of Ms. Le Thi Anh Nguyet (Tay Thanh road, Tay Thanh Ward, Tan Phu District) consists of six adults and two children. In 2013, her household had a monthly electricity bill of about VND1.5 million (an average of 190,000 VND/person/month). In 2014, Ms. Nguyet also replaced some conventional light bulbs with energy-efficient bulbs. As there were children in the household, so often they had to use hot water, her family removed the water electric heater and installed the solar energized water heater as an investment. This basic change helps her cut down about VND800,000 (during rainy season) or VND1 million (during hot season, with freezer in use) in 2015.
The substantial electricity savings of great value in the last year could be found in the case of Mr. Le Ba Huynh (Nha Be town, Nha Be district). Mr. Huynh said that his 4-person family was fairly comfortable in spending on energy, including air conditioning, ironing, washing and they cost about VND 1.5 million/month for electricity. Then, he invested VND 200 million for installations of solar battery to reduce the power from the grid. His electric bill goes down to about VND 500,000/month.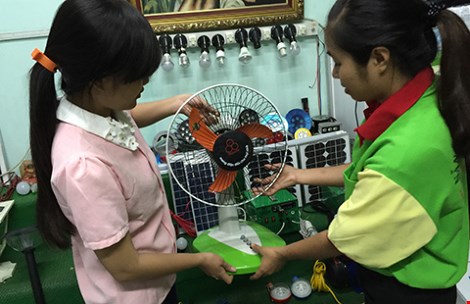 Selection of less power consuming electrical equipment is one of the effective ways to save electricity

Repairing the house
Reconstruction, repair of houses with appropriate calculations also helps the homeowner to live comfortably and even to get bonuses for saving electricity. The house of Huynh Trung Chanh (in Tran Hung Dao Street, Co Giang Ward, District 1) was repaired, to arrange a skylight well to take the wind in, and light in, thereby reducing the electricity powered lighting, also to reduce the usage time when air conditioning, and fans are needed for use.
As a part of the house repair, his family also bought solar energized water heater instead of electric water heater; he bought LED lights for replacement of fluorescent lamps. The electricity bill from VND2 million/month for six persons, an average of VND330,000 VND/person/month falls down to VND800,000 VND/month for four persons, an average of VND200,000/person/month.
Also by means of "exceptional adroitness" simply applicable in her house repair, Ms. Nguyen Thi Tam (Pham The Hien road, Ward 4, District 8) could have saved VND300,000/month (from VND 700,000/month to only VND400,000 /month for her 4-member family). "The front room of my house used to be gloomy and dark, we had to keep lamps on all day for sufficient lighting on domestic activities, and the fan had to be on all through the night for possible sleeping. Then I removed the wall, made a balcony window, a considerable large-sized window. Now during the day, sometimes we have to pull the curtain to shield off the light. And at night, the fan is kept on for a while to be then turned off, because at night, especially at dawn it is cold with draught"- said Ms. Tam.
Changing the habits in electricity use
The universal power-saving technique is still widely applied, to reduce the electricity bills by 10% and 20%/month. For example, Mrs. Mach Kim Hong (in Pham The Hien Street, Ward 4, District 8) pays only VND200,000 /month for six adults, thanks to well naturally ventilated and spacey house, where air-con is not needed, and the fanning is just moderate and the lighting is on only when necessary, rather than letting the light on in every corner of the house. "I remind my children and grandchildren of regular practice of good habits, save more, do not waste energy" - Ms. Hong said.
Taking the case of Mrs. Tran Thi Ngoc Thuy (Tran Quang Khai Street, Tan Dinh Ward, District 1) as another example, it costs her only VND250,000 /month (while in 2014 it was around VND 350,000/month). "In shopping, it is to select lower power consuming devices. Foods and drinks must be left cooler before putting them in the refrigerator; we should refrain opening the refrigerator door. When ironing, it is wiser to iron the thicker clothes before the thinner garments"- Mrs. Thuy shared here tips.
Some families accept the hand washing of thin shirts and blouses; instead of a single separate batch in the washing machine for this kind of laundry (shared laundry may cause the scratched, furry yarn in thinner clothes). The washing machine is used only for thick, heavy towels, jeans, cotton shirts. It is even wiser to set the washing mode at "wash" and "rinse" only, not at the "dry" mode. These tips also help reduce energy bills significantly because the air conditioning and are the two electricity "consuming" devices in the home.
Trong Tan