Amsterdam based Sunrock Investments has realised the acquisition of a 3.0MW portfolio of operational solar rooftop projects in Flanders, Belgium. This acquisition follows shortly on the acquisition of a 6.2MW portfolio in February this year.
The projects in the 3.0MW portfolio have an aggregated asset value of EUR 8M and were sold by the Belgian solar developer Ecorus. The projects are operational since 2011. The portfolio will directly add value to the existing portfolio of sustainable energy projects.
Sunrock Investments has an extensive track record in solar investments, project management and project development. This acquisition is the next step to ramp up the solar portfolio to EUR 100 million in asset value in 2016. Sunrock Investments currently holds a solar portfolio of EUR 53 million assets under management in Italy, Belgium and The Netherlands.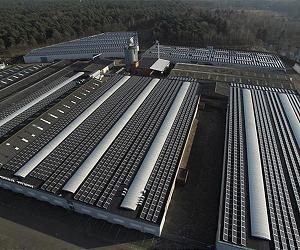 Ecorus is a well-known solar developer active in Belgium and the Netherlands. The company develops projects for companies, municipalities and housing cooperatives from scratch to exploitation.
Investment manager of Sunrock Investments Floris Leuftink commented: "This portfolio had been on our radar screen for some time and we are delighted to announce the successful acquisition. Thanks to our outstanding relationship with Ecorus and the proven quality of these projects the deal was closed after a smooth process.
"We expect this acquisition to be the start of a further cooperation between Ecorus as project developer and Sunrock Investments as investor for the long term. Sunrock Investments aims to further grow this year by EUR 50 million of solar assets in our target markets."
Sunrock Investments is currently structuring a solar investment vehicle which will acquire operational solar assets within Europe with proven track record. With the fund Sunrock Investments will broaden its investor base and accelerate its portfolio growth.
Solardaily.com