The investment agreement for Nam Dinh 1 Build-Operate-Transfer (BOT) Thermal Power Plant Project has officially been signed by the General Department of Energy and the consortium of investors, including Taekwang (South Korea) and Acwa Power Company on January 18, 2016 in Hanoi. Among the attendants in the ceremony were leaders of the Ministry of Industry and Trade, authority leaders of Nam Dinh Province, the South Korean ambassador and representatives of the investors.
The Project has a capacity of 1,200 MW (two generating units of 600 MW each) with a total investment of more than US$2 billion which is planned to supply power for Nam Dinh province and the northern localities.
The Plant is to be built in Nam Dinh Power Center, fueled by the coal from Vietnam National Coal and Mineral Industries Group as the main supplier.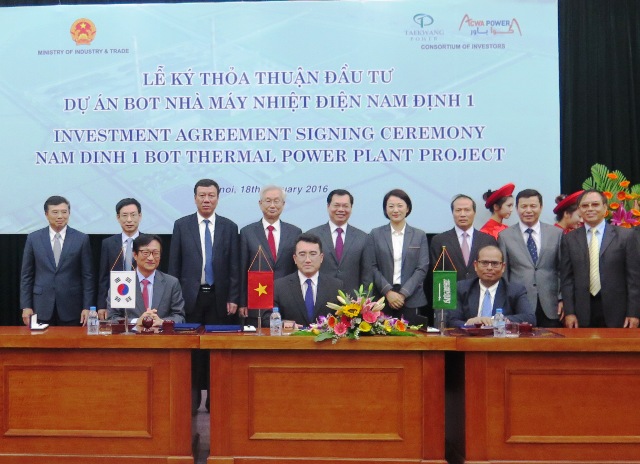 Mr. Dang Huy Cuong, Director General of Department of Energy and investor representatives
Speaking at the signing ceremony, Minister of Industry and Trade Vu Huy Hoang stressed: "We urge the concerned parties including the General Department of Energy, Electricity of Vietnam (EVN), Vietnam National Coal and Mineral Industries Group and Natural Resources and Environment Department of Nam Dinh province ... to co-work with the investors for rapid completion of relevant procedures to accomplish the investment certificate. Nam Dinh province is assigned to make the preparation of measurement, compensation, and land clearance and acquisition for immediate deployment of the Project as soon as the investment certificate is issued."
Also at the ceremony, Mr. Rajit Nanda, the Investment Chief Officer of ACWA Power added that ACWA Power hoped MOIT and other related ministries, agencies of Vietnam would support, direct and complete other agreements, so that investor partnership could start the construction as planned by mid 2016.
In response to the expectation, representatives of the General Department of Energy and Nam Dinh provincial leaders also pledged to create favorable conditions for the investors in the investment certificate, financial arrangement, and land acquisition, so that the project could be deployed in mid-2016.
Trong Tan