The United States Agency for International Development (USAID) and the Ministry of Industry and Trade of Vietnam held an event to summarize the project 'Vietnam Low Emission Energy (V-LEEP)' funded by USAID after 5 years of implementation. Through the V-LEEP project, the Ministry of Industry and Trade and USAID have collaborated to enhance Vietnam's capacity in developing long-term energy strategies, mobilizing private investment in the renewable energy sector, and improving compliance with industrial energy efficiency regulations.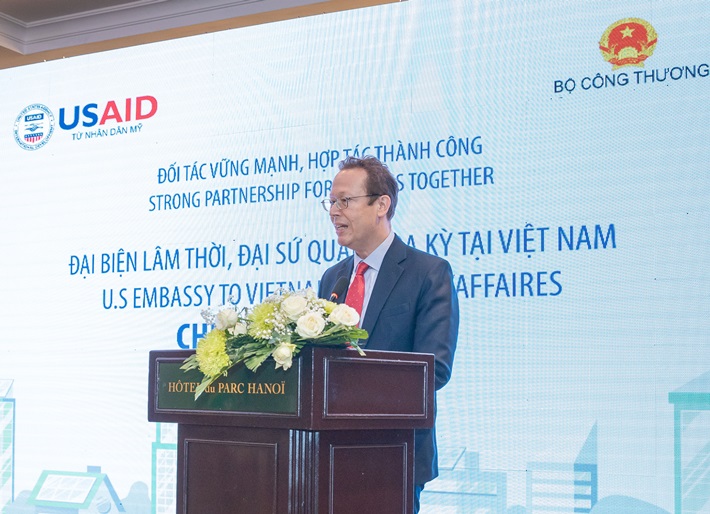 US Charge d'Affaires - Christopher Klein speaks at the event
Speaking at the event, US Charge d'Affaires - Christopher Klein highly appreciated the close relationship between the Ministry of Industry and Trade (Vietnam) and USAID's V-LEEP project over the past 5 years and grateful for the leadership, direction and commitment of the Ministry of Industry and Trade to the field of clean energy through not only words but also actual actions.
"The growth of solar power in Vietnam over the past two years has been very encouraging and Vietnam is now a leader in renewable energy in Southeast Asia. The private sector has driven much of this growth in solar power development, demonstrating the Government of Vietnam's strong support for private sector-led development. Christopher Klein affirmed.
The V-LEEP project has contributed to raising USD 311 million to successfully develop 300 MW of wind and solar power, with 6 projects invested by the private sector. Over the past three years, thanks to these renewable energy projects along with the energy saved through energy efficiency improvements, the project has contributed to reducing emissions of about 730,000 tons of greenhouse gases, equivalent to 365,482,807 kg of coal.
The project has also been coordinated with the Ministry of Industry and Trade to provide technical support for the future development of Vietnam's electricity grid and to develop the VIII Power Master Plan, which supported the development of a pilot program of direct sales of electricity (DPPA) and after final approval, this mechanism will facilitate private companies (such as Nike, AB, Adidas) cooperate with Vietnam to finance new solar and wind power development projects, while increasing Vietnam's contribution to climate change mitigation.
The project has also worked closely with the Ministry of Industry and Trade to develop Minimum energy performance standard (MEPS) to reduce electricity consumption in industrial production while further contribute to the promotion of energy efficiency goal of Vietnam.
USAID will continue to build on the success of the V-LEEP project and strengthen its partnership with the Ministry of Industry and Trade through the new project, V-LEEP II. Over the next five years, the V-LEEP II project will support Vietnam's continued transition to clean, secure and market-based energy through increased deployment of advanced energy systems, improved energy efficiency in energy sector and enhance competitiveness in this field.
Original article: http://nangluongvietnam.vn/news/vn/nang-luong-moi-truong/hoa-ky-cam-ket-ho-tro-viet-nam-tiep-tuc-chuyen-doi-sang-nang-luong-sach.html
Ha Tran