A new energy-efficient air conditioning system, valued at $8.4 million, has been installed at the maternity ward of the Spanish Town General Hospital in St. Catherine.
The project, undertaken by the Petroleum Corporation of Jamaica (PCJ), comprises two state-of-the-art units to replace the inefficient system serving the operating theatre and labour ward of the hospital.
The new system is projected to reduce the hospital's air conditioning energy consumption level by approximately 50 per cent, and the overall electricity bill by 43 per cent, to yield $1.6 million in total annual savings.
Additionally, it is expected to enhance the comfort level of staff and patients and improve service delivery.
Science, Technology, Energy, and Mining Minister, Hon. Phillip Paulwell, who addressed the brief commissioning ceremony on Wednesday (July 15), said the project is a "significant investment".
He said the air conditioning system is the third energy efficient project undertaken by the PCJ, at Spanish Town Hospital.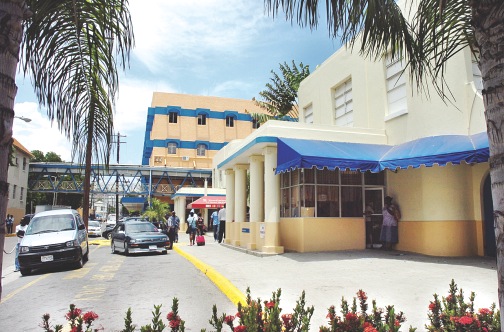 He informed that a $3.8 million water heating system was installed in 2009, and the maternity unit's internal lighting system was retrofitted at a cost of $1.2 million in 2013. These initiatives, he pointed out, "(have) resulted in considerable savings."
Noting that similar energy efficiency projects will be undertaken at other public health facilities, Mr. Paulwell informed that an air conditioning system will be installed at the operating theatre at Annotto Bay Hospital in St. Mary, in addition to other interventions at five other hospitals.
Additionally, the Minister said 15 schools islandwide are slated to benefit from solar technology solutions.
In his remarks, PCJ Group General Manager, Winston Watson, hailed the support of the hospital's staff and patients, as well as the residents of Spanish Town, while pledging that "we will continue to support energy conservation, in general…going forward."
For his part, SERHA's Chairman, Dr. Andrei Cooke, noted that the air conditioning upgrading project is "timely" and is a good example of joined up government. "Partnerships, like this, help to improve overall healthcare delivery," he noted further.
He said the system "enhances the overall experience of our patients and our staff, and reduces the misery index of our patients. Healthcare is holistic; not only is the curative (aspect) important, but the aesthetics of the environment in terms of patient recovery".
Chief Executive Officer of the Spanish Town Hospital, Peta-Kaye Sinclair Hamilton, expressed gratitude for the new air conditioning system, noting that it provides welcomed relief from the summer's sweltering heat.
The 411-bed Spanish Town Hospital serves an average of 8,000 maternity patients per annum and facilitates 5,000 deliveries.
The air conditioning upgrade at the hospital is part of a national project to install energy-efficient technologies at public sector entities, in a bid to reduce the national energy bill, which totalled approximately $14 billion at the end of last year.
Anh Tuan