Energy Recovery, a US-based company specialising in pressure energy technology for industrial fluid flows, has announced a US$3.96mn order to install its PX Pressure Exchanger devices in the Quriyat independent water project (IWP).
The Quriyat IWP is currently being executed by Singapore-based Hyflux which will use Energy Recovery's PX-Q300 Pressure Exchanger devices for the water plant. It will be one of the largest desalination plants in Oman and have the capacity to produce 200mn lt per day (MLD).
Energy Recovery estimates the PX devices will reduce plant's power consumption by 20MW and save 173GWh of energy every year, leading to reduced emissions of CO2 by about 100,000 tonnes. The order is expected to be delivered by the fourth quarter of 2015.
The contract represents continued momentum in Energy Recovery's desalination business, as it has announced over US$14mn in orders, including this one, to date in 2015.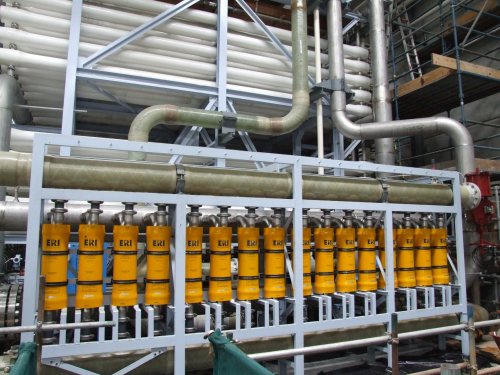 Joel Gay, president and chief executive officer, Energy Recovery, stated, "We have continued to see steadily growing momentum in desalination orders throughout 2015. The company has maintained its dominant market position, and is now seeing increasing activity in an improving desalination market.
This is the fourth mega project that Energy Recovery has worked on with Hyflux, and we are proud to consistently win larger scale projects from our existing customers. We have announced over US$14mn in larger project orders to date in 2015, which is well ahead of our run rate at this time last year."
The award-winning PX Pressure Exchanger remains the most efficient and reliable energy recovery solution on the market for desalination, operating with 98 per cent efficiency in its energy exchange, the company said.
The contract worth RO100mn to develop the Quriyat IWP was awarded to a consortium consisting of Singapore-based global integrated water and power solutions provider Hyflux and Modern Channels Services by Oman Power and Water Procurement Co in December 2014. The consortium has established a closed joint company, Qurayyat Desalination Co, for executing the project.
Anh Tuan