Almost four years after a devastating earthquake and tsunami that left the Fukushima nuclear catastrophe in its wake, every nuclear reactor in Japan is still pending major approvals, resulting in yearly power supply and demand crises during the peak season. This event has dramatically changed how energy consumers deal with formerly abundant and reliable grid-supplied electricity, and many of them have installed their own distributed generation to achieve energy security and energy efficiency.
In an effort to accelerate Japan's transition to a more resilient, efficient and environmentally-friendly lifestyle, the Kashiwa-no-ha Smart City was built as a global showcase for a next generation smart community model. This city manages a complex network of distributed energy resources, energy storage and building loads to improve the lives of its citizens.
Kashiwa-no-ha Smart City is the result of a collaborative effort between government agencies, universities, research institutions, Tokyo Electric Power Company, Mitsui Fudosan Co., Ltd., Hitachi, Ltd., and other entities. This partnership between the public, private and academic sectors is geared toward the realization of three ideals: an environmentally-symbiotic city; a city of health and longevity; and a city of new industry creation. Hitachi is providing area energy management solutions that operate, monitor, and control energy across the entire region.
The Kashiwa-no-ha Smart City Project aims to greatly reduce CO2 emissions through duplication of energy-transmission lines, the use of un-tapped energy, and more efficient operations. Furthermore, the project aims to construct electrical networks that incorporate smart-grid functionality across the entire Kashiwa-no-ha region.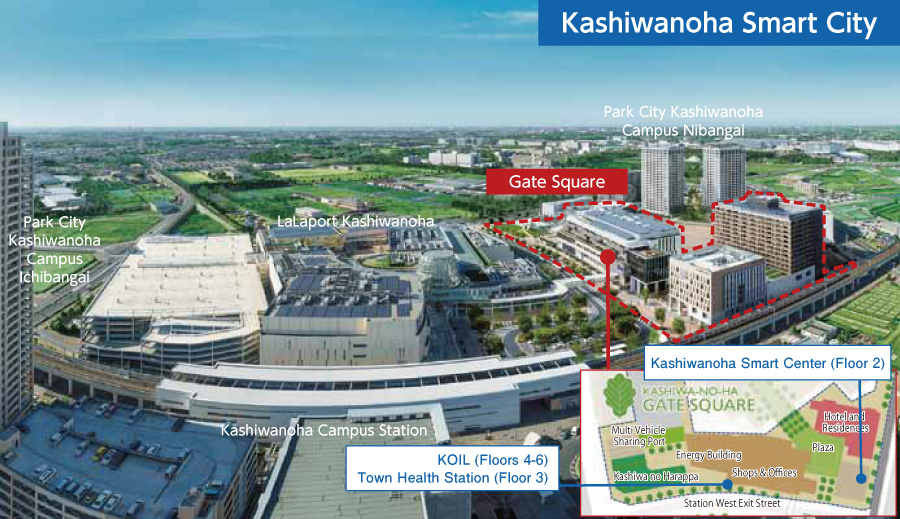 The purpose is to create a new area energy management system (AEMS) that, at its core, optimizes levels of regional energy use such as production, receipt, and consumption of electricity, and then to expand its area and level of functionality. Kashiwa-no-ha operates as a microgrid, with the ability to operate independently during grid outages.
AEMS operates under the theme "saving, creating and storing energies," with the goal of optimization of use and regional interchange of energy, while preserving Kashiwa-no-ha's rich, unique natural environment and traditions. AEMS aims to integrate more than just electricity in the region; it also strives to harness the natural energy of the community and the health of its residents. AEMS facilitates the consolidated management of energy, prediction of electrical demand, and provision of supply-and-demand information. It does this by enabling the visualization of utilities and the control and analysis of the supply and demand of energy information across the entire region. To accomplish this, AEMS depends on information from the home, building, and central-management systems that are installed in offices, shopping centers, residences, public facilities, and other facilities. Moreover, the distributed power facilities and vehicles that have battery storage systems are vital for ensuring stable operation when the electrical grid is linked with renewable energy sources, such as solar power or wind power. By managing and linking these, the flexible interchange of electrical energy within the region becomes possible. Energy conservation creates a link between the infrastructure in a region and the lives of the people in that region. Energy creation and storage is accomplished through new infrastructure. Kashiwa-no-ha Smart City's AEMS connects these by using advanced systems to their fullest potential.
The Smart Center is the core of the Smart Grid Model for Electrical Grid Cooperation, which passes electricity back and forth between buildings that experience differing peaks in electricity consumption. Another role of the Smart Center is the consolidation of regional disaster-prevention management with regional energy operations. In normal operation, it aims to manage electricity from multiple sources, such as the electrical grid, gas, and renewable energy. In times of grid outage, it is able to provide a level of electricity supply that can sustain households.
Through the effective use of energy conservation, generation and storage within the "town" area, we are working toward the construction of an area management system. In addition, we have established three objectives for continued operation of the town in times of disaster: activity navigation (getting people where they need to be), electrical interchange (getting energy where it needs to be), business and life continuity plan measures (getting life back to normal as quickly as possible).
Anh Tuan