Sun Life Stadium, the home of the Miami Dolphins American football team, has announced that its stadium floodlights will be converted to an 'advanced LED system' that will cut energy use by approximately 75%.
The conversion will save 936,000 kWh of energy a year, equivalent to 711 tons of CO2. It is the latest in a line of onsite solutions being installed by sports stadiums across the globe.
The system will be installed by Eaton's Ephesus Lighting, the company responsible for similar LED systems at other NFL stadiums including the University of Phoenix Stadium (home of the Arizona Cardinals) and U.S. Bank Stadium (home of the Minnesota Vikings).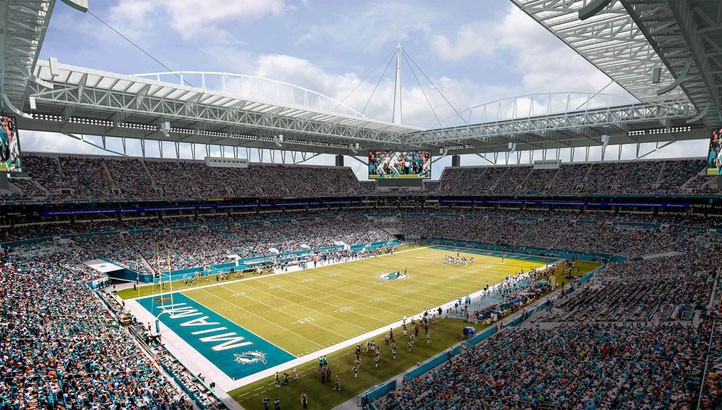 A rendering of the upgraded Sun Life Stadium featuring LED lights
This efficiency upgrade continues a growing trend of sustainable stadiums. Here in the UK, Southampton Football Club recently installed a complete LED floodlight system, making St Mary's stadium the first LED-lit ground in Europe.
Stadium sustainability is not limited to LEDs, as Levi's Stadium in Santa Clara - home of the San Francisco 49ers - also boasts a unique water stewardship programme. The stadium has been connected to the City of Santa Clara's recycled water system, which will provide about 85% of total water use within the stadium.
The Levi's Stadium also features low-flow water fixtures such as toilets, urinals and sinks will and Bermuda Bandera turf grass, which requires up to 50% less water than average.
Closer to home, Cardiff's Millennium Stadium recently announced that 98% of the advertising boards around the pitch during the Rugby World Cup would be recycled.
Edie.net