The AP government will distribute some two lakh energy efficient pump sets (motors) costing about Rs 50,000 each to farmers free of cost. These pump sets will be replacing the old and existing ones now being used by farmers and this is expected to save 400 million units of energy per annum.

Chief Minister N. Chandrababu Naidu has directed officials to adopt a five-pronged strategy to implement the scheme. "This is a profarmer government and nothing more is important to us than the welfare of the farming community. Apart from saving energy, installation of these energy efficient motors free of cost would benefit the farmers immensely. Farmers would be relieved of the burden of the operational and maintenance costs associated with these pump sets for five years, the CM said.

Mr Naidu had informed the Prime Minister during a visit to Delhi, and also Union minister of state for power with independent charge Piyush Goyal during his visit to Nellore recently, that a five-point strategy is being adopted for effective implementation of the Agriculture Demand Side Managem-ent (AgDSM) programme.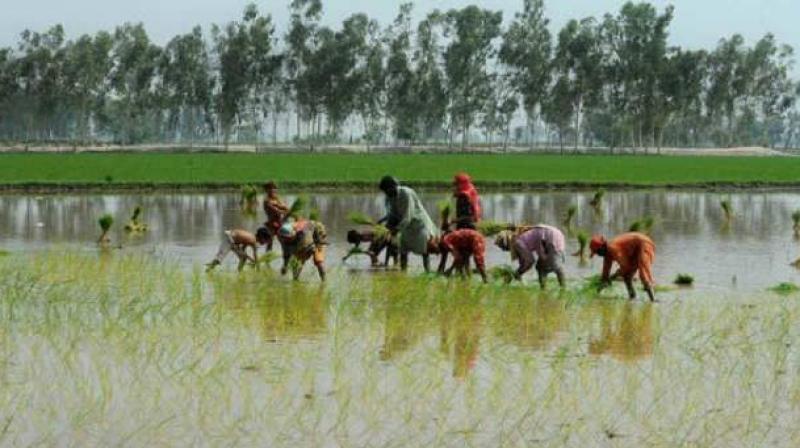 Energy department principal secretary Ajay Jain said the Chief Minister has directed them to initiate short and long term measures to make the scheme a grand success. "At present, a pilot programme is under implementation in the Rajanagaram mandal of East Godavari district, wherein about 2,500 existing pump sets are being replaced with Energy Efficient Pump sets (EEPS) at a cost of Rs 20 crore. So far, about 292 pumps have been replaced and an increase of discharge by 15 per cent and a minimum of 25 per cent energy savings are being observed," he said.

Mr Ajay Jain said that as part of the first phase implementation of the scheme, the government has decided to replace two lakh existing pump sets covering select areas in all the districts, out of the total available 15 lakh pump sets in the state.

AP State Energy Conservation Mission CEO A Chandra Sekhara Reddy said the five-pronged strategy included providing free energy efficient pump sets to farmers, their free repair and maintenance for five years, organising site visits and farmer interactions between the farmers of various districts and those under the pilot project in Rajanagaram mandal, undertaking massive awareness programmes by involving the people, and setting up Project Monitoring Unit (PMU) in the Energy sector.
Deccan Chronicle