Speaking at an industry seminar, Pham Nguyen Hung, deputy director of Vietnam's Ministry of Industry and Trade (MoIT), said that the MoIT is currently drafting a framework to develop renewables including ground solar, rooftop solar and floating solar, according to a local news report.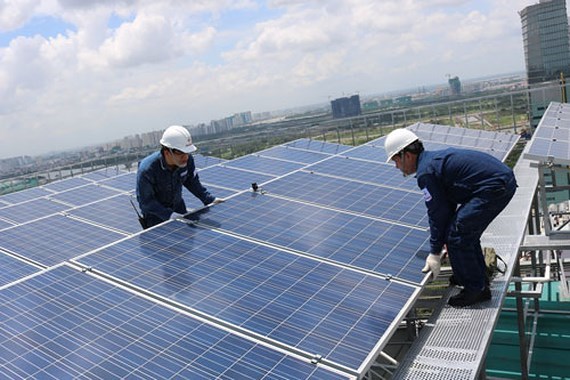 Vietnam's government is drafting a new price mechanism for rooftop solar to replace existing feed-in-tariff (FIT) regime. Photo: VietNamNet
Hung said the mechanism for rooftop solar would use a self-consumption rate, based on the ratio between electricity consumed on site and the total installed production capacity. Under this model, the electricity seller can sell most of the electricity generated to consumers and the remainder back to the grid.
IJGlobal (registration required) reported that the proposed model would allow sellers to sell 70% to 90% of generated electricity to consumers and the remainder to state-owned electric company Vietnam Electricity (EVN). This model would allow EVN to reduce investment pressure on the power grid, transmission and distribution.
Renewables expert John Yeap of Pinsent Masons, the law firm behind Out-Law, said: "As we have seen in many countries worldwide, a feed in tariff mechanism serves a purpose in enabling the commercialisation of investments where the viability gap may otherwise have prevented such investments. However, as the sector develops, other forms of incentives or revenue models may be more appropriate, and the introduction of self-consumption and corporate power purchase agreement (PPA), with net sales to the grid, may be better alternatives to a FIT regime."
"This proposed development by the MOIT is therefore to be welcomed as it allows commercial and industrial (C&I) energy users to self-generate where possible, allowing surplus to be sold to the grid. The credit worthiness of the corporate offtakers will however be a risk consideration for the sellers which will be a consideration that has to be evaluated when considering alternatives to a utility offtake mechanism," he said.
The Vietnamese government issued a revised FIT, FIT2 at a price of $0.0838/kWh in April 2020. The rate expired in December 2020, and a replacement is yet to be decided.
In March, the MoIT proposed a new FIT, FIT3, with tariffs reduced by between 31% and 38% to between $0.052/kWh and $0.058/kWh based on system size.
By Pinsent Masons