Toshiba Wins Contract To Supply Battery Cells For Flinders Island Hybrid Energy Hub
Chủ nhật, 09/08/2015 - 21:53
Hydro Tasmania has signed contracts totaling nearly $4 million for work on its renewable energy and storage project on Flinders Island, with Toshiba winning the contract for the supply of battery cells.
The Flinders Island Hybrid Energy Hub – announced earlier this year – will significantly increase renewable energy use on the island and reduce the use and importation of expensive diesel fuel by up to 60 per cent

"Diesel fuel remains the single largest expense in these remote energy systems and using renewable energy makes good economic sense," project director Simon Gamble.

The $12.88 million Flinders Island project follows the success of the King Island Renewable Energy Integration Project (KIREIP), which has seen King Island's energy needs supplied solely from renewables when conditions allow, a world-leading breakthrough.

Gamble says the Flinders Island project will use similar technology to that on King Island. It involves integration of wind and solar generation with the existing diesel power station, and installation of enabling technology, such as flywheel and battery energy storage.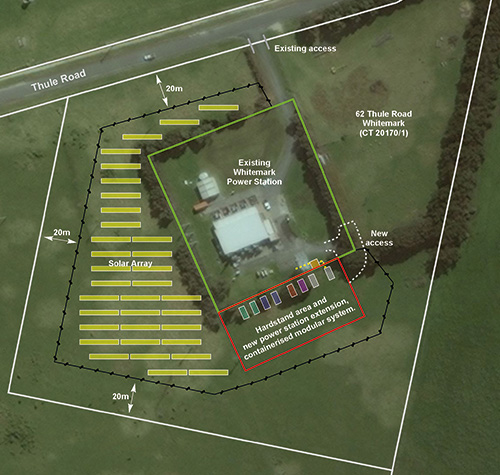 "This combination of technologies means we will be able to securely and reliably generate power for Flinders Island, even during lulls in the wind or when the sun isn't shining," Gamble said. One initiative is the development of modular units to house and ship the technologies, resulting in lower cost, and mobile installations.

The major contracts include Toshiba for battery cells and RF Industries for the solar PV design and construction.
Hitzinger will supply the Diesel Uninterruptible Power Supply (DUPS) unit, Southern Prospect will manufacture and install custom-designed shipping containers to house the DUPS unit and Doric Engineering will manufacture customised shipping containers to house control hardware, low voltage switchgear and power electronic cabinets of the dynamic resistor. Bartech will manufacture switchgear in specialised containers.

The Australian Renewable Energy Agency (ARENA) is supporting the project with $5.5 million funding. ARENA CEO Ivor Frischknecht said the project would provide the Flinders Island community with improved energy security and would enhance skills and job opportunities in the Tasmanian region.
Mai Linh