HCMC saved over VND2 billion on electricity bill during 2013-2015
Thứ năm, 28/01/2016 - 11:56
With the implementation of "Power Saving Family" program, HCMN managed to cut down the carbon dioxide emissions as well as save a huge amount of money on energy bill.
On the morning of Jan 16th, 2016, Ho Chi Minh City Power Corporation (EVNHCMC) hosted a wrap-up ceremony on the "Power Saving Family" and the programme in the 2013-2015 period.
During the implementation, the "Power Saving Family" emulation program has strongly promoted energy efficiency in the residential sector, which brought the great success in motivating the behavioural change of the public regarding daily energy conservation. The propaganda program has attracted full attention and significant support of the local authorities as well as a range of different agencies and departments such as EVNHCMC, the Fatherland Front Committee of Ho Chi Minh City, the Ho Chi Minh City Lawyers' Association, HCMC Communist Youth Union, HCMC Women's Union, HCMC War Veterans' Union and so on.
In the past year, with the participation of over 599,380 households in energy efficiency activities, HCMC saved 450 million kWh, equivalent to an amount of VND833 billion on energy bill, and cut an estimated 282 ton of carbon dioxide emissions.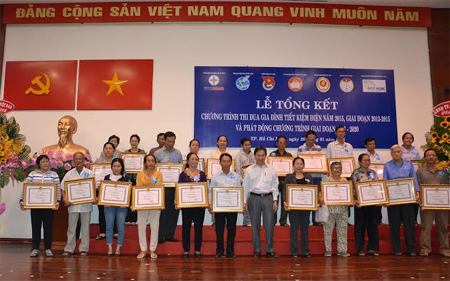 Awarding families with excellent achievements in energy savings
In the phase 2013-2015, the implementation of the "Power Saving Family" emulation program in HCMC encouraged more than 2,039 households to perform electricity savings, which contributes to reducing electricity consumption of 1.35 billion kWh, equivalent to over VND2.395 billion, reducing emissions causing the greenhouse effect of about 844,000 ton of CO2.
At the wrap-up ceremony, 480 families were certified by HCMC's Steering Committee for Power Supply and Conservation as the 2015 city's family model of energy efficiency. Furthermore, HCMC's Steering Committee for Power Supply and Conservation also announced that they will continue to maintain propaganda activities related to "Power Saving Family" program in the phase 2016-2020 with the purpose of improving the community's awareness of safe, economical and efficient use of energy.
Thanh Thao