Tra Vinh to implement first phase of wind power project
Thứ bảy, 27/02/2016 - 10:28
Groundbreaking ceremony of Korea - Tra Vinh wind power plant was organized by Tra Vinh 1 Wind Power Company at Con Trung Hamlet, Truong Long Hoa Commune on 24th February
Groundbreaking ceremony of Korea - Tra Vinh wind power plant was organized by Tra Vinh 1 Wind Power Company at Con Trung Hamlet, Truong Long Hoa Commune, Duyen Hai Town (Tra Vinh Province) on 24th February.
The facility is part of Tra Vinh's plan to produce electricity output of 300 MW in the period from 2015 to 2020. This will help create jobs, benefit national budget and supply renewable energy to local households.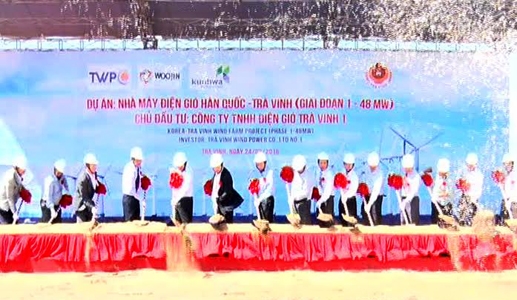 The project received the total capital of USD130million (VND2,800 billion) and is expected to complete by Feb 2017. When operating, the plant is anticipated to produce 173,000 MWh per year.
According to Tra Vinh 1 Wind Power Company, the construction covers an area of 1,211 hectares and consists of many facilities such as: wind turbines with the capacity of 48 MW, substations, factories, voltage lines etc.
Tra Vinh ranks number 2 among Mekong Delta's provinces in terms of potential to develop wind power. So far, the authorities have established 6 wind power projects in the coastal areas across Duyen Hai District.
Song Thuong