Efficient and safe use of electricity in Long An province
Thứ hai, 11/10/2021 - 08:22
Long An Electricity Company has closely cooperated with branches, localities and mass organizations to organize activities, programs and guide specific solutions to help people raise awareness, use electricity reasonably, economically and efficiently.
To ensure a continuous and stable power supply for production and business as well as the people's essential daily needs, right from the beginning of 2021, Long An PC has determined the propaganda of efficient use of electricity as one of the key tasks to fully prepare programs and activities for effective implementation.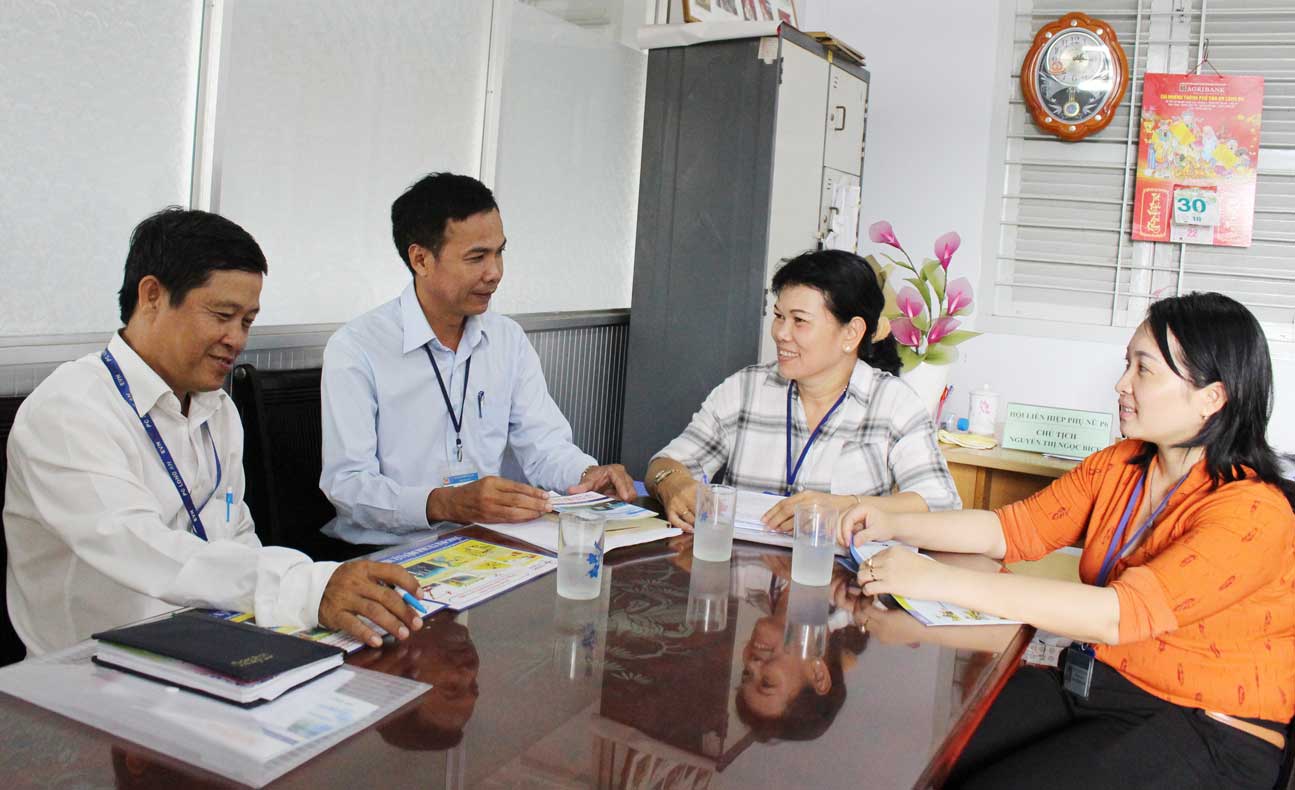 Electricity workers discuss with local representatives about measures to propagate and mobilize people to use electricity economically (Photo: Long An Newspaper)
Accordingly, Long An PC cooperates with media agencies to carry out informational articles and propaganda in response to the Earth Hour Campaign, economical and efficient use of electricity, high-performance electrical equipment, and increased specialized work, regularly organizes inspection of electricity use.
On the other hand, the company organizes to broadcast video clips, spread words with slogans to propagate and advocate for efficient use of electricity at customer transaction offices of affiliated electricity; sending open letters to industrial production customers, advocating for the application of solutions for efficient use of electricity. In addition, the company coordinates with associations, unions and schools to propaganda to people and students to implement many solutions to use electricity economically, safely and reasonably.
Mr. Le Hoang Oanh - Director of Long An PC shared, with high level of electricity consumption, especially the demand for electricity for production and business, the propaganda of saving electricity is always taken in account by the companies. Right from the beginning of the year, Long An PC has implemented guidance, support and propaganda for customers to use electricity rationally, economically and effectively. Simultaneously, in coordination with departments and localities to organize many propaganda activities, in which focusing on advising customers who use large amounts of electricity to practice saving, turn off machines and equipment when not in use, plans to replace outdated, power-consuming machines, instead choosing to use new technological machines that both bring production efficiency and save electricity.
With the drastic and synchronous participation in the transmission of power saving to customers, Long An PC has well performed the task of ensuring power supply, fully meeting the electricity demand for production and business of the enterprises and needs of the people.
In the coming time, Long An PC will continue to carry out many related activities to spread the power saving propaganda to all customers. At the same time, the electricity industry calls for cooperation and sharing from electricity users, looking forward to receiving and support of all levels of government, agencies, departments, sectors and mass organizations through various actions with practical actions in economical and efficient use of electricity, contributing to meeting electricity demand for socio-economic development, environmental protection and national energy security.
Ha Tran