According to the investigation of the World Bank, the potential of wind power in Vietnam is huge, around 513,360MW, i.e. more than 200 times the capacity of Son La hydropower. In that perspective, Bac Lieu province with its 56km coastline is considered the best place of wind speeds in the country (averaged from 6.5 to 7.2 m/s, up to 10m/s in the peak month), with many main wind directions. Furthermore, along the coastal area of Bac Lieu there are uninhabited mudflats, very favorable for wind power development.
Therefore, in September 2010, Bac Lieu wind power plant was constructed. It becomes the first wind power project in the Mekong Delta, built on the broad coastal wetlands in Vinh Trach Dong commune spreading over 500ha with total investment of VND5200 billion. The design capacity of 99MW enables an annual supply of 320 million kWh.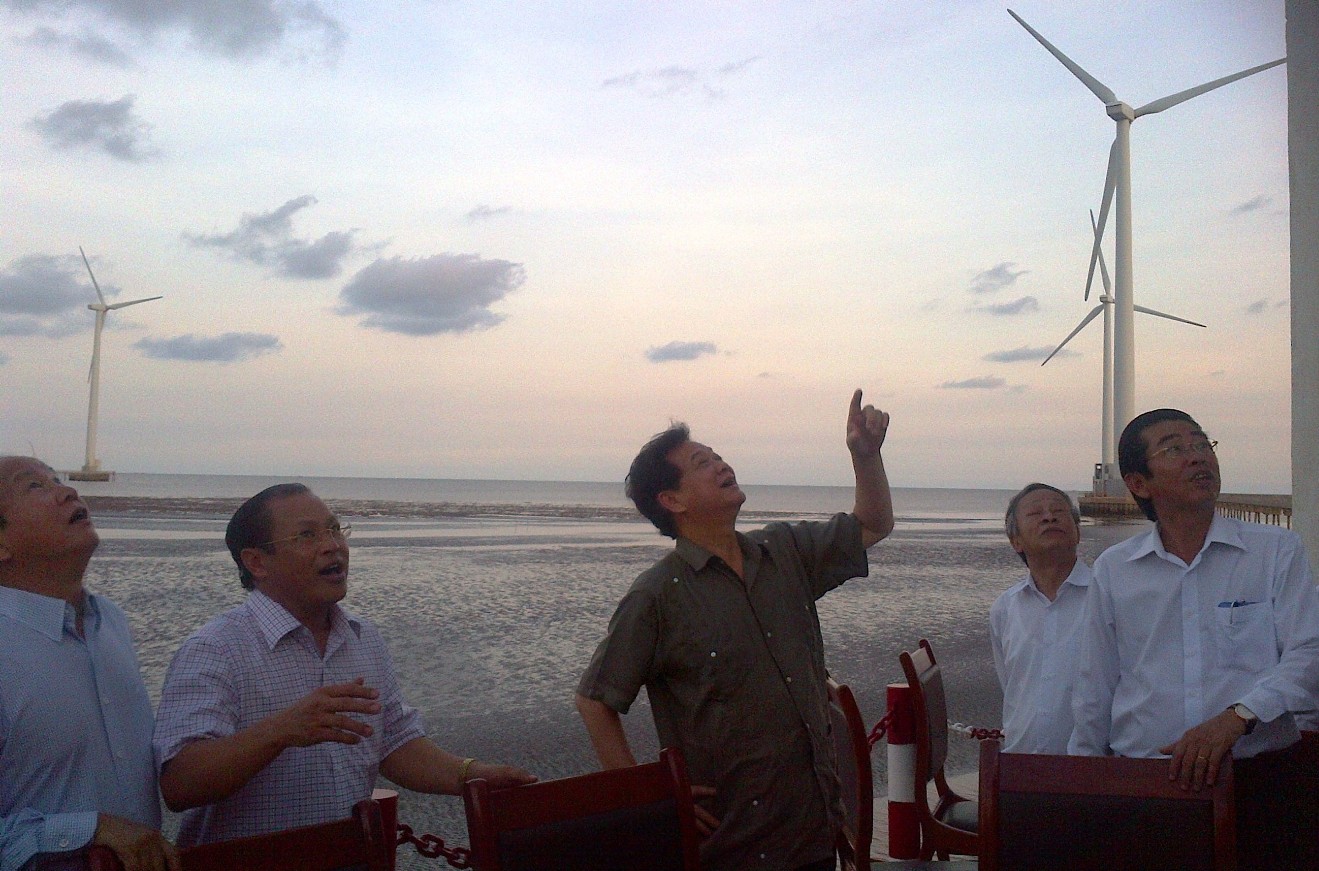 The Wind Power Plant Project is divided into two phases. Phase 1 of the project was completed on October 2, 2012 with the installation of 10 turbines. The total capacity of this Phase is 16 MW and electricity production is estimated at 56 million kWh/year.
In May, 2013, electricity of Phase 1 with 10 turbines was officially influent in the National Grid. By March 2014, these 10 turbines had generated more than 20 million kWh, a turnover of VND35 billion.
Phase 2 has a larger mission: it is the construction 52 wind turbines with a total investment of more than VND4200 billion. On February 24 this year, the first turbine pole of Phase 2 was officially been erected with success.
According to the project investor, Cong Ly Travel - Trading - Construction Co. Ltd, Phase 2 includes 52 turbine poles, which are manufactured with special stainless steel, 80m in height, 4m in diameter, weighing over 200 tons each. The plastic valve is 42m in length, with automatic control systems to fold the collapsible propellers in prevention of damages during big storms.
Thus, upon its completion, Bac Lieu Wind Power Plant will have a total of 62 turbines with a total capacity of 99 MW to generate about 320 million kWh/year.
Speaking about the project, the Provincial Secretary, Mr. Vo Van Dung also the Chairman of Bac Lieu Provincial People's Council says that Bac Lieu Wind Power Plant Project has many significant implications, while promoting the socio-economic growth in the province, it contributes to the industrialization, modernization and motivates economic development, and brings Bac Lieu Province out of poverty and backwardness in the Mekong Delta region. The project also opens up a future for the new and clean energy industry in Vietnam.
Trong Tan