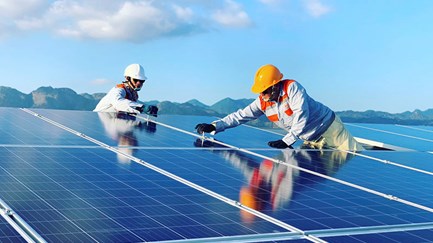 31/10/2021
Facing the shortage of power sources in the North and oversupply in the Central and Southern regions, according to the Ministry of Industry and Trade's assessment, if the large power sources under construction continue to be behind schedule, the level of power shortage in 2025 can reach up to 10.8 billion kWh. Therefore, ensuring the progress of power sources under construction is extremely important for ensuring the security of electricity supply in the period 2021-2025.

The Government has just issued Decision No. 1658/QD-TTg approving the National Green Growth Strategy for the period 2021-2030, with a vision to 2050. Accordingly, many goals towards developing a green economy have been set for the period from now to 2030 and 2050.

The level of energy waste in industrial production facilities in Vietnam remains high. According to preliminary calculations, the industrial sector accounts for 47% of annual energy consumption and the potential for energy saving is estimated at about 20% - 30%.

In the first 8 months of 2021, Ninh Thuan PC has saved 10,978 million kWh, equivalent to 2.25% of commercial power output and an increase of 4.02% over the same period in 2020.