Reporting at the meeting with permanent Government members on October 28, the Ministry of Industry and Trade (MoIT) said power supply during the first 10 months of 2023 have been basically guaranteed, but power shortages occurred at certain points of time in late May and early June due to abnormally low water levels, extreme heat, and suddenly surged and prolonged electricity demand.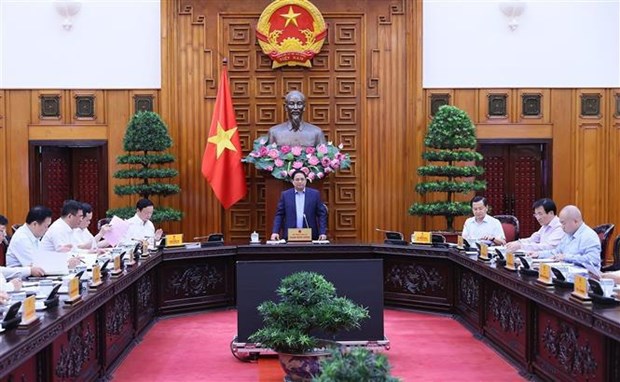 PM Pham Minh Chinh (standing) chairs the meeting on power supply on October 28. (Photo: VNA)
​
Total power output and import are estimated at 280.6 billion kWh in 2023, up 4.6% from last year and equivalent to 98.6% of the plan, the MoIT noted.
To serve socio-economic development in 2024, power consumption may increase 6 - 8.96%. The power system is capable of meeting demand in most scenarios. However, in the worst-case one, if electricity demand surges and water levels are low, the northern region may face power shortages, the MoIT predicted.
At the meeting, leaders of ministries, sectors, and deputy prime ministers discussed scenarios and proposed solutions to ensure power supply for socio-economic development next year.
PM Chinh held that the country doesn't lack electricity for socio-economic development in 2023, but shortcomings in the operation of sources have led to shortages in certain areas and at certain points of time.
For 2024 and beyond, it is necessary to build scenarios, monitor and examine the operations of power sources, and ensure sufficient materials such as water, coal and gas for power generation, he noted.
In particular, he added, ministries and sectors must provide conditions for maximising domestic coal sources, and only import coal when domestic sources are not enough. They need to ensure water stored at reservoirs is sufficient for both agriculture and hydropower generation; mobilise renewable energy sources in a way that harmonises interests among people, businesses and the State; fully capitalise on gas-fired power plants; and consider electricity import when necessary.
The Government leader also gave directions in terms of electricity transmission, distribution, and use.
He told ministries and sectors to consider adjusting power prices in an appropriate manner that takes into account related expenses, inflation, and different groups of users.
VNA