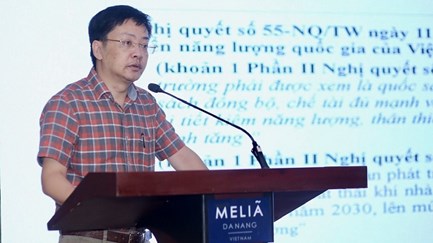 29/09/2022
In the coming time, it's needed to develop new tools and methods which help solve practical problems and legislate the guidelines and policies of the Party and State to promote energy efficiency activities. In which, reviewing and amending the Law on Economical and Efficient Use of Energy is urgent.

The Steering Committee will meet annually in order to evaluate the program's progress and approve the next year's work plan. This meeting aims to present the results of the DEPP3 Program's work plan 2022 and the proposed work plan in 2023.

On 17 November 2022, a technology exchange forum took place in Ho Chi Minh City to seize solutions and promote opportunities for South-South cooperation in bioenergy in Viet Nam.

On the sidelines of the ongoing 27th United Nations Climate Change Conference (COP27) in Egypt, Minister of Natural Resources and Environment Tran Hong Ha had a working session on November 6 with President for COP26 Alok Sharma, who represents the United Kingdom, the European Union and the Group of Seven (G7), on the support for Vietnam in energy transition.