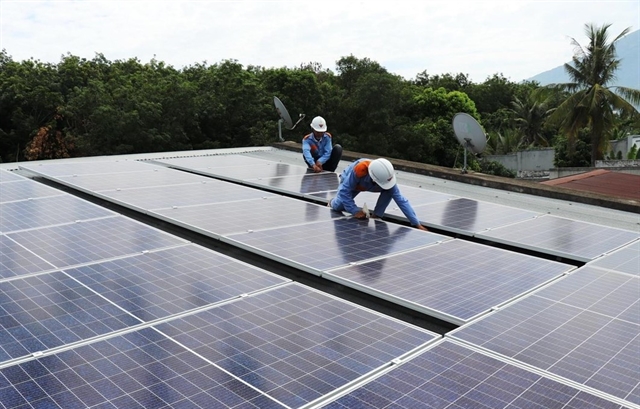 Workers install a rooftop solar power system in the southern province of Tây Ninh
The Asian Development Bank (ADB) signed a US$37.8 million loan deal with TTC Energy Development Investment Joint Stock Company (TTC Energy) to provide long-term financing to develop and operate a 50-megawatt (MW) photovoltaic solar power plant in the southern province of Tây Ninh.
ADB's assistance for the Gulf Solar Power Project was provided through an innovative project finance structure, which ensured the bankability of the project. It will help catalyse commercial financing for one of the first large-scale solar power project finance transactions in the country.
Director of Infrastructure Finance Division of ADB's Private Sector Operations Department Jackie B. Surtani said ADB is excited about this transaction because the project will have a significant impact on the sustainability and security of Việt Nam's energy sector for years to come.
"Apart from providing much-needed financing to develop solar power in Việt Nam, the project will also help reduce perceived risks in the country's renewable energy sector," Surtani said.
Việt Nam plans to increase the share of renewable energy sources, such as hydropower, solar, wind, and biomass, as a percentage of total installed capacity to 21 per cent by 2030 to meet rapidly growing energy needs and reduce greenhouse gas emissions by up to 25 per cent by 2030.
The project will develop and operate the 50 MW solar power plant and its associated facilities in Tây Ninh Province, which is about 50 kilometers northwest of HCM City. The solar power plant will directly serve the electricity demand of residents and businesses of HCM City and surrounding areas. It will reduce annual carbon dioxide emissions by 29,760 tonnes by 2020.
TTC Energy, established in 2017, is 90 per cent owned by GED. GED is a leading private power generation company and has the largest portfolio of gas-fired power projects in Thailand.
Theo Vietnamnews