Prime Minister Pham Minh Chinh announced the signing of the agreements at a press conference held after talks between the two leaders Sunday.
Chinh said that the relationship between the countries has been developing positively over the years and Vietnam has become Germany's largest trading partner in Southeast Asia.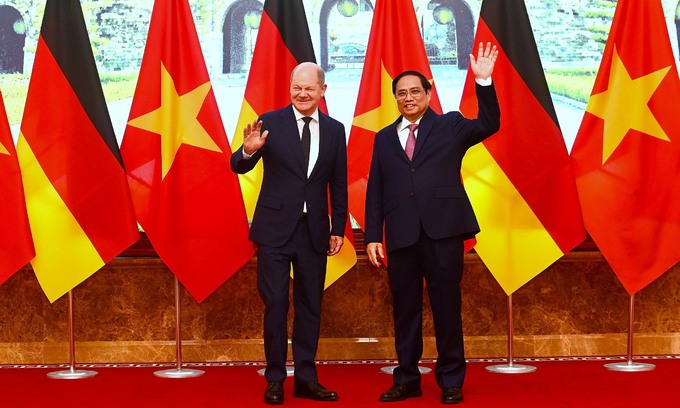 German Chancellor Olaf Scholz (L) and Vietnamese Prime Minister Pham Minh Chinh before holding talks at the government headquarters in Hanoi, November 13, 2022. (Photo by VnExpress/Giang Huy)
"Right before and during the German Chancellor's visit, the two countries' agencies completed procedures and signed three cooperation documents on defense, energy transition, and labor, vocational training, showing that the strategic partnership has grown deeper and become more effective," Chinh said.
He said the two countries had agreed on major measures to increase cooperation and expand it into new areas, contributing to economic recovery and sustainable development.
Vietnam and Germany will also work closely in responding to global challenges, contributing to peace, security, cooperation and development in the region and the world, he added.
Chancellor Scholz emphasized that Vietnam was a very important partner for Germany and German businesses.
Scholz arrived in Hanoi Sunday afternoon, starting a two-day official visit to Vietnam at the invitation of PM Chinh.
Chinh presided over a welcome ceremony for Chancellor Scholz at the Presidential Palace. The two leaders held talks at the government headquarters after the welcome ceremony.
A Vietnam News Agency report quoted an article published on the website of the Konrad Adenauer Stiftung Institute (KAS) as saying that the focus of Chancellor Olaf Scholz's visit to Vietnam was to promote the strategic partnership signed by the two countries in 2011.
Vietnam and Germany established diplomatic relations on Sep. 23, 1975.
Germany is Vietnam's largest trading partner in the European Union (EU), with two-way trade turnover in the first seven months of the year reaching $7.3 billion, up 18.5% over the same period last year, according to a statement by the Ministry of Foreign Affairs.
Germany is the 17th largest investor out of 140 countries and territories investing in Vietnam, with a total registered foreign direct investment of $2.3 billion as of January.
Vietnam is Germany's largest trading partner in Southeast Asia and its sixth largest trading partner in Asia. There are currently more than 7,000 Vietnamese students studying in Germany.
VnExpress