T&T Group and Orsted Energy Group (Denmark) have just signed a cooperation agreement in the field of offshore wind power in Vietnam. Accordingly, the total capacity of wind power projects in Binh Thuan and Ninh Thuan reaches nearly 10 GW, with a total investment of about 30 billion USD, which is expected to be phased in for 20 years.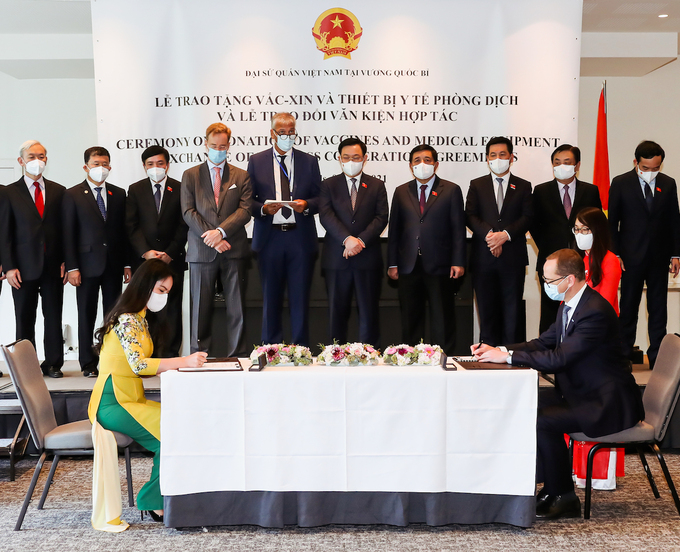 Ms. Nguyen Thi Thanh Binh, Deputy General Director of T&T Group and Mr. Martin Neubert, General Director of Commerce and Vice President of Orsted Group signed a memorandum of understanding (MoU) on strategic cooperation in the field of offshore wind electricity. Photo: T&T Group
Accordingly, the two corporations will apply their experience and capabilities, promote their strengths to bring about efficiency for projects. At the same time, the cooperation contributes to promoting the formation and development of infrastructure, supply chain, and legal framework for offshore wind power in Vietnam. After the signing ceremony, the two will continue to study and plan offshore wind power projects in accordance with the national electricity master plan, and submit them to the competent authorities of Vietnam for consideration and approval.
With more than 3,200 km of coastline and stable high wind speeds, Vietnam has good conditions for offshore wind power development in Asia. According to World Bank, the estimated offshore wind power potential of Vietnam is about 500 GW. In addition to this potential, Vietnam's rapidly growing electricity requires urgent power sources in the coming decades.
According to Mr. Do Quang Hien, Chairman and General Director of T&T Group, 10 years ago, this enterprise researched and prepared conditions for the development of the renewable energy sector. Up to now, in addition to a number of large solar and wind power projects that have been and are about to be completed, T&T Group also plans to develop strategies for renewable energy, gas power, port and LNG gas center projects up to the 2030 and vision to 2045, in line with the national energy strategy and master plan.
"Partnering with a world-leading corporation in the field of offshore wind such as Orsted Group will help T&T Group accelerate the implementation of the above plan, providing valuable international experience and financial resources in the implementation of projects in Vietnam", Mr. Hien said.
The representative of the leading offshore wind power group, Mr. Matthias Bausenwein, President of Ørsted Asia-Pacific, said, Ørsted aims to achieve 30 GW of offshore wind by 2030. "To support the development of this ambition, we need to work closely with partners like T&T Group - an enterprise with many achievements in developing large energy projects in Vietnam and help us gain a deep understanding of this market."
According to Mr. Sebastian Hald Buhl, Country Director of Orsted Vietnam, the memorandum of understanding is an important step for Orsted in establishing a foothold in Vietnam, gradually becoming a reliable long-term partner here.
Ørsted is a global leader in offshore wind power with more than 6,000 employees, headquartered in Denmark. To date, the company has developed and built 28 offshore wind farms with a total installed capacity of 7.6 GW of offshore wind capacity and 2.3 GW under construction. Orsted's goal is to install 30GW of total offshore wind capacity worldwide by 2030.
Meanwhile, T&T Group is one of the leading private economic groups in Vietnam, making its mark in the field of energy development. In 2020, the group put into operation 4 solar power plants with a total capacity of 245 MWp. In 2021, T&T Group plans to operate 5 wind power plants in potential localities across the country with a total capacity of 530 MW. According to the plan, in the next 10 years, the power supply capacity of T&T Group (LNG and renewable energy) is expected to reach about 10,000 - 11,000 MW, accounting for about 8% of the total installed capacity of power sources of the Vietnamese power system.
Besides the Danish partner, T&T Group also signed a cooperation agreement with Smart Universal Logistics Group NV (SUL) of the Kingdom of Belgium to develop a wind-powered desalination machine to produce fresh water for agriculture and aquaculture in Viet Nam. Accordingly, the two enterprises will build a pilot system for desalination of river water by wind energy (WBW) in Ninh Thuan province, aiming to build a WBW system factory in Vietnam to reduce production costs and be proactive in technology.
Ha Tran