The EU executive plans to raise about €140bn (£121bn) by imposing windfall taxes on energy companies' "abnormally high profits" and redirecting proceeds to households and businesses struggling with soaring bills.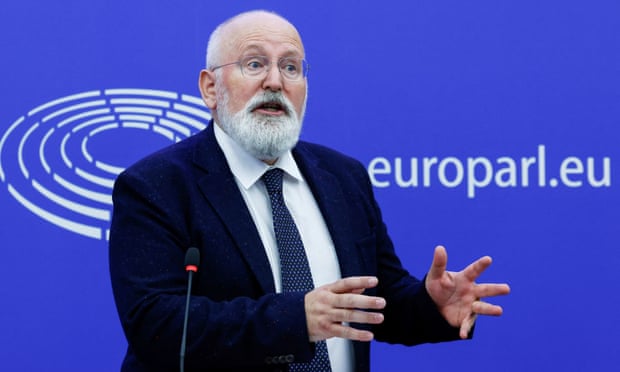 The European Commission's vice-president, Frans Timmermans, said the plans were a necessary response to energy supply shortages and high prices. (Photograph: Yves Herman/Reuters)
Announcing long-awaited emergency measures to tackle the rising price of electricity, the EU official in charge of the green transition, Frans Timmermans, said the plans were a necessary response to energy supply shortages and high prices.
"The era of cheap fossil fuels is over. And the faster we move to cheap, clean and homegrown renewables, the sooner we will be immune to Russia's energy blackmail," he said.
Fossil fuel extractors will be asked by the EU to give back 33% of taxable surplus profits for the 2022 fiscal year, in a move that could pile pressure on Liz Truss to reverse her decision not to extend the UK's windfall tax on oil and gas companies, which is set at 25%. Truss has ruled out extending the £5bn windfall tax on energy companies introduced by the former chancellor Rishi Sunak.
In a further sign of the UK's post-Brexit divergence, the new prime minister has also stopped short of asking consumers and businesses to reduce their energy use over the winter.
In contrast, the commission wants EU member states to sign up to a legally binding target to cut electricity use by 10% overall and by 5% during peak hours, via efficiency campaigns and incentives.
The plan mirrors an already agreed voluntary target of cutting gas consumption by 15% until the end of spring 2023. "Demand reduction helps rebalance the energy market, lower energy bills, reduce emissions and makes us immune to Russia's gas games. Without demand reduction, it is not going to work," Timmermans said.
Announcing further details of its long-trailed energy plan, the commission wants oil and gas companies to pay the 33% "solidarity contribution" on their profits, although EU member states would be free to set higher levies. Low-carbon electricity generators, such as wind, solar and nuclear firms, would have their revenues capped at €180 per megawatt hour, which is less than half current market prices.
These firms have enjoyed a profits bonanza as their revenues are linked to the price of expensive oil and gas. "A cap on outsize revenues will bring solidarity from energy companies with abnormally high profits towards their struggling customers," Timmermans said.
EU officials expect to raise €25bn from the tax on fossil fuel producers, while the cap on low-carbon firms is expected to raise €117bn. The revenues could be recycled to consumers as direct rebates, to fund insulation and other efficiency measures or the switch to low-carbon technologies.
Both measures are in effect windfall taxes, although the commission avoids this term because of political sensitivities. The plans are to be discussed by the bloc's 27 energy ministers at the end of the month, with pressure for a quick approval of the law before winter.
Campaigners at Oxfam urged member states to set windfall taxes at "at least 50% and up to 90%" to spare "ordinary people from skyrocketing energy bills, which are only set to get worse this winter".
Gas and electricity prices have hit all-time highs since the Russian invasion of Ukraine, during which the Kremlin has drastically reduced supplies to Europe.
Earlier on Wednesday, the European Commission president, Ursula von der Leyen, described the Russian invasion as "a war on our economy", insisting Europe would prevail over the Russian president, Vladimir Putin. Russia accounts for only 9% of the EU's gas imports, down from 40% before the invasion.
EU officials, however, have retreated from plans to cap the price of Russian gas, after opposition from countries, such as Hungary and Austria, that feared cuts to their Russian imports. Other member states, such as Poland, argued a price cap should apply to all gas imports, while a few countries wary of market intervention opposed any price cap.
The EU energy commissioner, Kadri Simson, said: "We continue to believe that a gas price cap on Russian pipeline imports is warranted but more work is needed to assess the worst impact [on] some member states."
She said the commission was also studying how a price cap on all gas imports would work, taking into account "unreliable suppliers" such as Russia and "reliable friends", such as Norway.
The emergency electricity plan published on Wednesday is only the latest measure in the EU's attempt to free itself from Russian fossil fuels.
As the final details were being thrashed out, analysts at the US bank Goldman Sachs forecast that the price of gas was likely to more than halve this winter as efforts by EU countries to avoid big shortages this winter prove effective.
Meanwhile, the International Energy Agency said on Wednesday that Russian oil production was expected to fall by 1.9m barrels a day by February, when a full EU embargo on its exports of crude and refined products kicked in.
The agency reported that almost 11m barrels a day were produced in August, marginally down on levels before the invasion of Ukraine. This is forecast to fall to 9.5m by next February.
The IEA said Russia had "mitigated upstream losses" by rerouting exports from countries that have shunned Russian oil – including the US and European countries – to other destinations such as China, India and Turkey.
The Guardian