On July 22nd, 2015, at the Expo Center in Tan Binh, HCM City, the 5th International Technology for Energy Saving Products & Green Energy (Enertec Expo 2015) and the 8th International Exhibition on Technology & Electrical Equipment (Vietnam ETE 2015) were held.
The Technology Trade Fair is conducted under the directives and auspices of the Ministry of Industry and Trade, the Municipal People's Committee, and the concerned ministries. Ho Chi Minh City Department of Industry and Trade presides over the event.
Exhibition Forum lasts until the July 25, with 250 booths, bringing together the technologies, advanced equipment and facilities of electric power of more than 100 Vietnamese enterprises and 25 overseas enterprises from France, Germany, Switzerland, Japan, Korea, China, Singapore, Malaysia, Thailand, and India.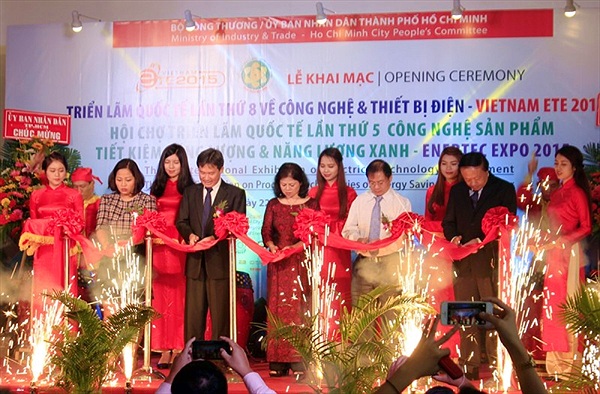 The Trade Fair aims at introduction and promotion of energy-saving products, high-tech electrical appliances, energy-saving solutions and use of green energy sources, new and renewable energy based products. It is expected that the Trade Fair would raise public awareness about economical and efficient use of energy. At the same time, it opens up opportunities for exchanges, cooperation and investment between domestic and foreign enterprises.
In the framework of the fair there are specialized seminars and forums, organized by the HCM city Department of Industry and Trade with themes such as: "Promoting green consumption and production in order to protect the environment" and "Solutions and energy efficient technologies for buildings". At the Trade Fair, the awarding ceremony for "Energy Savings for Green Living" contest is also held in coordination with the Youth Union of Ho chi Minh city.
Trong Tan