On July 23, 2015, the Provincial Labor Federation and the Electricity Company of Quang Nam in collaboration with the Dien Ban town People's Committee held a celebration over a general review of the movement "Energy Saving Agencies and Enterprises" in Quang Nam province, and the Contest "Electricity Savings in Public Offices in 2015" in Dien Ban district of the province.
Three months after launching, the Organizing Board has distributed 5,000 leaflets of energy savings in public offices, agencies and businesses in the province. Together with this activity, the provincial Labor Federation sent 1,000 leaflets to its affiliated unions. Through the review, it has been showed that many agencies and enterprises applied the reasonable and efficient saving measures. Thus, the total electricity savings of agencies and businesses in May, June and July is 3,979,271 kWh, accounting for 1.2% of total commercial electricity production of this month in the province, equivalent to a saving of VND 6.7 billion.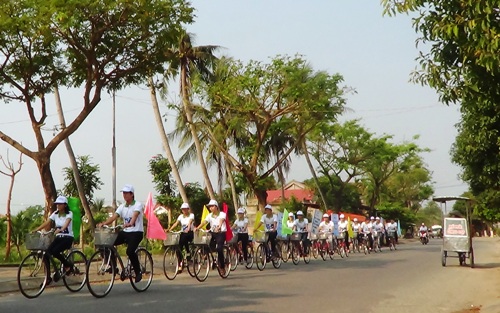 In response to competition launching "Electricity Savings in Public Offices in 2015" in Dien Ban district, there are overall 78 public offices to register in the competition ( accounting for 100%). Referring to the criteria and statistical monitoring data on electricity consumption, the organizer has identified 29 public offices which reached the required standards.
At the ceremony, the organizing board conducted the ceremonial awarding of Power Savings Certificates to 29 typical public offices in the town of Dien Ban.
Trong Tan