To encourage agencies, organizations and people to use energy saving devices and to apply energy efficiency measures, Thanh Hoa Centre for Industrial Promotion and Energy Conservation - Thanh Hoa Department of Industry and Trade has been building up many pilot sub-projects, supporting energy efficiency solutions in many fields.
Mr. Hoang Xuan Phong - deputy director of the Center says that the center has installed 173 energy efficiency luminaires for Tran Phu road and Nguyen Van Cu road (Bim Son town). Since the installation and through an operation process, the new system could have reduced 34% of power compared to using the old traditional lighting system.
The public lighting system is switched to solar celled power in combination with grid power susyem at the complex of Department of Industry and Trade, the Thanh Hoa Department of Finance and Thanh Thang road (Sam Son town). The installation helps reduce 100% of the power consumption, bringing about high economic efficiency and securing the urban lighting.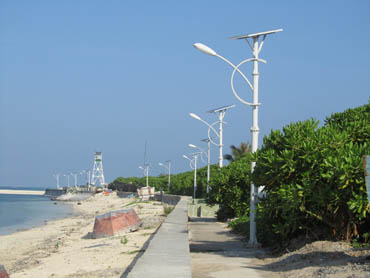 As reported, the project uses solar batteries with practical significance and high efficiency in application of lighting model using renewable energy to reduce the use of electric power and non-renewable energy sources and to promote the clean energy sources, in protection of natural resources and the environment.
Also in recent years, the Center has successfully developed 18 models of technical applications of biogas for cooking, and the street lighting for 5 districts in Thanh Hoa. To date, the models are still in efficient operation. With the use of biogas, on a monthly basis, each household on the average could save from VND500,000-700,000 from fuel purchase and and lighting. At the same time, it opens up new ways to reduction of environmental pollution in husbandry, to meet an energy demand of the people in rural areas.
Besides, the Thanh Hoa Centre for Industrial Promotion and Energy Conservation has cooperated with the authorities in the province to open more training courses to provide the training in how to use composites biogas tanks.
In addition, the project "Encouragement of households to participate in the movement of households of economical and efficient use of energy in Thanh Hoa province" with many practical activities is also highlighted. Thereby, the households have taken their own initative in replacing the incandescent bulbs with LED light bulbs to save electricity. According to initial calculations, if each household does a good practice of power saving, then 1 million households in Thanh Hoa could save 13 million kWh /year.
Trong Tan