Electricity of Hanoi (EVNHANOI) has celebrated the grant of Energy Management Certificate ISO 50001:2011 and held a Seminar on Technology in Energy Management.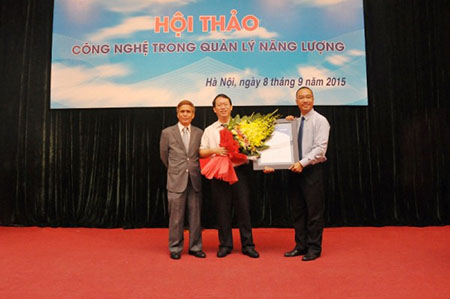 In the presentation of the process and assessment of ISO 50001 certification 2011 in EVN Administration Office of EVN HANOI, Mr. Le Sy Trung - Director General of TUV NORD Vietnam emphasized that the project was conducted from deployment Phase 1, starting June 2014 to February 2015, when the system was set up (including preparation of document; identification of opportunities for improvement; proposed solutions to save energy and implement the solutions).
Phase 2 is the operational phase and improvements (from February, 2015 to August, 2015 month). As a result, EVN HANOI has built up its management system - a management model under ISO 50001 in compliance with provisions of the Law on Energy and the National program on Economical and Efficient Use of Energy; implemented the communication in the offices of the Corporation on energy saving and monitoring; implementation of technical solutions (such as replacing the lights and air conditioning system) in accordance with requirements of energy use, and achieved the planned targets. Through the project implementation, EVN HANOI is appreciated as a representative image for businesses in Economical and Efficient Use of Energy.
The Seminar on Technology in Energy Management has brought to the delegates, the participating enterprises better recognition of the issue through the analysis of the energy consumption and efficiency index in key energy consumption enterprises; measures to monitor energy consumption by means of adaptable automation technology; control solutions and power quality improvement for the grid. With the aim to promote the dissemination and application of new technologies in energy-saving efficiency, the seminar participants emphasized that the establishment of energy management system under ISO 50001:2011 is the first condition for every enterprise to control of energy usage better in their business.
It is also reported that ISO 50001:2011 is the International Standard for Energy Management Systems. The Energy Management Project under ISO 50001: 2011 with its development and deployment at EVN Hanoi headquarters building from June 2014 by APAVE Asia - Pacific Consultant was evaluated on August 6, 2015 by TUV-NORD fully in compliance with ISO 50001: 2011.
Trong Tan