With a total planned budget of around VND 6 billion, the project of development and dissemination of high-performance energy saving equipment for gradual removal of low-performance equipment will be the target of the Hanoi Energy Conservation Center (Hanoi ECC) to be implemented in 2015.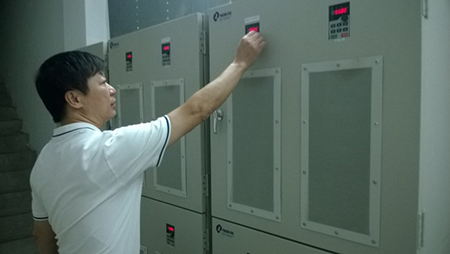 Inverters are installed in the air conditioning ventilation system of the Plant of Hanoisimex, Hanoi Textile & Garment Joint Stock Corporation.
Accordingly, in 2014, Hanoi supported 15 energy audits for industrial manufacturing establishments, with 76 advisory solutions to save energy, thereby saving 951.2 TOE and reducing 2,726.7 tons of CO2 emissions, of which over 30% of the solutions were deployed.
Mr. Dao Hong Thai - Director of Hanoi ECC said, the policy of the Hanoi City People's Committee to implement the national target program on economical and efficient use of energy for 2013-2015 period had been carried to remove the inefficient and low-performance electric equipment for using the high-performance appliances in the Industrial zones, processing zones, production facilities, industrial enterprises, and commercial buildings.
In the enterprises of the beverage group, Hanoi has also made rapid assessment on the management and the use of energy in 10 enterprises, with consultancy supports offering 29 energy-saving solutions to 4 enterprises, which saved 543 TOE /year, equivalent to VND6.35 billion/year. Also Hanoi ECC coordinated with the Department of Agriculture and Rural Development to organize the re-planning of the irrigation system in the city to save water and to maximize hydro power for irrigation water, and drainage by gravity running, to limit the energized pumping so as to reduce the energy costs and production costs.
For the city buildings, Hanoi authority has exerted support and disseminated the information to over 70 buildings about Energy management systems by ISO 50001: 2011, Vietnam Regulation QCVN 09:2013/BXD as National Technical Specifications for energy efficient buildings and Instructions for enactment of the Law on Economical and Efficient Use of Energy.
Also in 2014 Hanoi supported improving energy efficiency in 60 buildings, supported the energy audits and proposed 59 energy saving solutions to be applied in 11 buildings with a total amount of savings at 535,3TOE, 2118.7 tonnes of CO2 emissions, in which 19 out of 59 solutions for buildings were implemented.
Also as reflected by Mr. Thai, the year 2015 is identified as the final year of the national program of Economical and Efficient Use of Energy with its objectives to be achieved for 2013-2015 period, so Hanoi will continue to promote energy-saving activities in the area, striving to achieve the savings from 2% -3% of total energy consumption against the forecast energy demand.
Trong Tan