On Dec 16, 2015 Tien Giang province held a conference to sum up the energy savings period 2008-2015 and the strategy of cleaner production for 2011-2015 in the province. Mr. Le Van Nghia, Deputy Chairman of Tien Giang attended and chaired the meeting.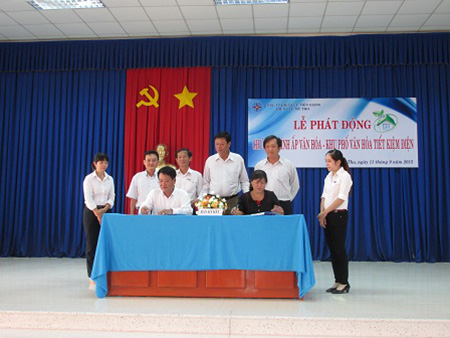 Reporting at the conference, the leaders of Tien Giang Department of Industry and Trade confirmed that during the past 8 years, with support from local budgets and the lead of institutions, individuals, businesses, Tien Giang province started to invest billions VND into energy-saving solutions such as lighting dragon fruit trees with compact lights, solar energy for water heaters, installation of the controller to reduce the capacity of public lighting.
Through eight years of implementation, Tien Giang province has saved about VND1 billion, a reduction of over 361,000 tons of CO2 emission which might have caused worse greenhouse effect.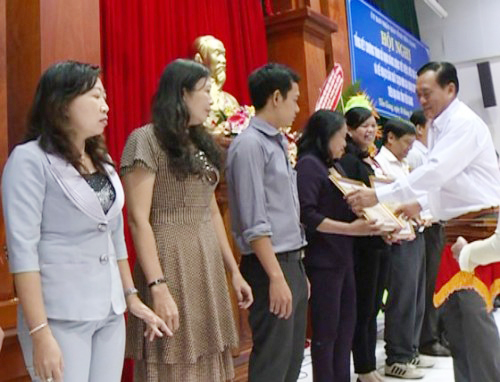 Regarding the Cleaner Production program in 2011-2015, a number of businesses have recognized and gradually applied the cleaner production measures with none or little extra cost, such as administrative housekeeping measures to improve consciously the material savings, energy saving, water saving, the working environment of the factory. The industrial production facilities applied their cleaner production that saved 5-8% of energy consumption and raw materials per unit of product.
Speaking at the conference, Mr. Le Van Nghia, Deputy Chairman appreciated the efforts of departments, People's Committees of districts, towns, and organizations and individuals that have well implemented the programs of energy-saving, efficient and cleaner production strategy in Tien Giang province. To continue the good implementation of economical and efficient use of energy, and cleaner production in the coming period, he said that the industry with its all levels should promote the public communication, and deploys as many saving solutions for organizations, businesses and people.
As reported by Tien Giang Department of Industry and Trade, it is well worth to say that not only businesses but today many people of Tien Giang province are aware of the power saving which not only brings practical benefits to the family, but also contributes to the national budget for environmental protection.
Recently, the "Hamlet of Culture - Cultural District as Power Saver" program, the Power-saving celebration, is one of the models that attract masses in Tien Giang province to participate in.
At the meeting, the Provincial People's Committtee awarded the Certificate of Merit for the 26 teams and 48 individuals who performed well in the National Target Program of Economical and Efficient Use of Energy, with effective application of cleaner production in Tien Giang province.
Trong Tan