In response to the National Target Program on Economical and Efficient Use of Energy, on December 28, 2015, at the Provincial Convention Center, Vinh Phuc Energy Center held a training conference on energy savings and efficiency for businesses and units operating in the field of design, construction management, public lighting and transport.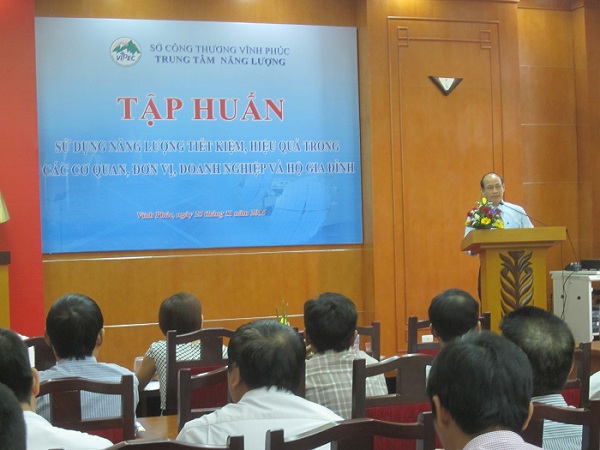 At the conference, participants are introduced into common rules and responsibilities of governance over the Economical and Efficient Use of Energy in construction, public lighting and transport, in combination with understanding about relevant legal documents, such as "National technical standards for construction of energy efficiency works", "Circular No.64/2011/TT-BGTVT prescribing the measures for Economical and Efficient Use of Energy in transportation" etc..
Besides, the conference also mentioned the problems to be noted as the means and equipment on the list of facilities and equipment which must bear the energy labeling before market launch. For transport vehicles, energy labeling is mandatory starting January 1, 2015. In addition, the conference also provides knowledge in expenditure management, fuel consumption norms for various types of vehicles, measures for energy conservation in the planning, construction and rehabilitation of transportation works.
Simultaneously, the energy efficiency devices, products, models of public lighting and transport available in the region and the world are also introduced for the attending individuals and organizations.
Through this event, Vinh Phuc Energy Conservation Center wishes to promote the dissemination of messages, capacity management and a sense of responsibility for energy efficiency in the province. Also, thanks to the frequently organized events of the similar contents, Vinh Phuc has achieved many positive results in energy efficiency efforts. The province-based businesses such as Viglacera Hop Thinh, Viglacera Ba Hien, NISSIN Vietnam have boosted their investment into new power-saving equipment and technology, improvement of workshops and facilities, reasonable production plan, to make a partial contribution into reduction of energy consumption and limitation of carbon emissions and a saving of hundreds of million VND for the businesses.
In the future, the Center will continue to promote its achievements. Besides, it will stick to the planned objectives for energy efficiency, select and build models of energy efficiency, and make all possible efforts to do the public services, and consulting services in the energy sector.
Trong Tan