Recently, Binh Thuan Center of Industry Promotion (CIP) has encouraged 1,000 homes in 8 wards of Phan Thiet city to take part in energy saving activities. Participants included Binh Hung, Duc Thang, Duc Nghia, Xuan An, Phu Hai, Phu Trinh, Hung Long, each of which selected 125 households to join the programs.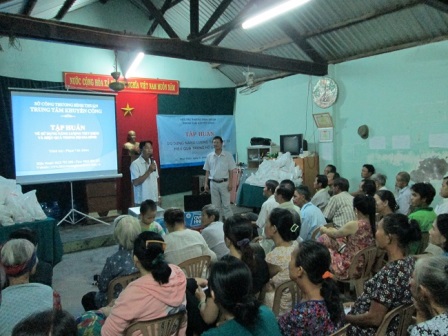 Binh Thuan Center of Industry Promotion organized training workshop for households taking part in enery saving families program
After promoting energy saving activities among families, Binh Thuan Center of Industry Promotion has organized training workshops on energy efficiency for households who registered from 20th January 2016 to 2nd February 2016.
At the training workshop, energy experts from the center showed attendants the role of saving fossil fuel such as oil, coal, gas etc. Moreover, due to the information provided in the workshop, participants understood the importance of energy efficiency. As a result, changed their habits when consuming energy.
Additionally, experts also gave farmers instructions to use common household lighting devices efficiently.
Besides, Binh Thuan CIP has given representative of each household that attended the training workshop a 20W compact light bulb and energy saving handbooks published by Binh Thuan CIP.
Hanh Nguyen