On 19th March, Hoa Binh Power Company (PC) worked with the Youth Union to celebrate Earth Hour 2016. Representatives of the two organizations, other agencies and over 300 volunteering units took part in the campaign.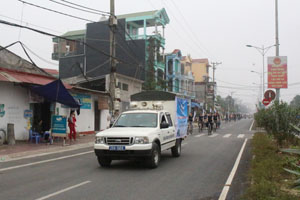 Earth Hour started by WWF is a worldwide grassroots movement uniting people to protect the planet by improving awareness on climate change and energy efficiency. This is the 5th year Hoa Binh has joined the event. This year's message is "Small actions - big impact". Ample activities were implemented in response to the campaign including calling for energy efficiency among the youth and ethnic minority groups to reduce carbon emission and protect the environment.
The lights off event from 20:30 to 21:30 on 19th March helped to encourage people to change their habits of using energy, save power and tackle climate change.
Following the celebration, volunteers paraded and distributed 3,000 power saving handbooks to households of the province.