Chrysanthemum flowers are widely planted in Da Lat city (Lam Dong). Previously, in order to gain the standard height for the flowering trees, with bulky and beautiful flowers, the planters grew the flowers in greenhouses and applied tradditional lighting for the flowers. The commonly used bulbs are incandescent bulbs. However, because the electricity costs increase for large incandescent bulbs, Da Lat flower planters have shifted to using compact fluorescent light bulbs for lighting the flowers. This method of farming helps flowers bloom on the intended day, with bulky flowers, beautiful petals and being sold at higher prices.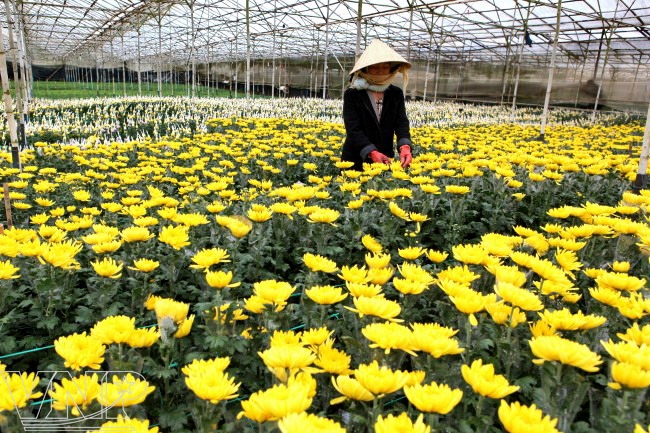 As reported by Lam Dong Provincial Department of Industry and Trade, Da Lat has approximately 2,500ha for cultivation of various typesof daisies and chrysanthemums. Every year, the gardeners use lamps of 20W Compact type for lighting at a density rate of 1,000 bulbs /ha, frequency of about 8 lighting hours / per night. The total power consumption across the region is about 12 million kilowatts with monetary value of about VND24 billion.
Therefore, many farmers who produce chrysanthemum cuttings in greenhouses in Da Lat and the surrounding areas, have boldly replaced the compact lamplighting system with the LED lighting . The test results from using 5W LED lighting at 180 degrees on some acreage of Dalat chrysanthemum show that the flower absorbs the light and appears pretty good growth, saving up to a quarter of energy costs compared to the use of 20W compact fluorescent light.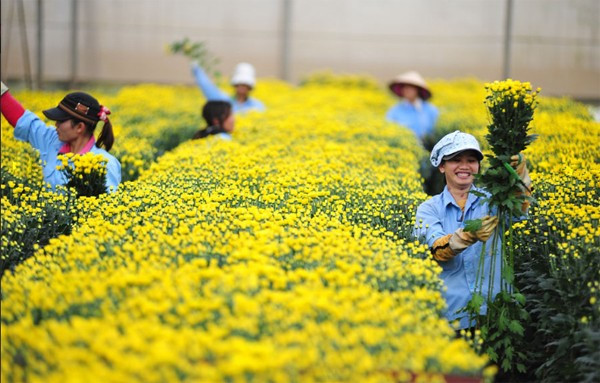 Besides, the use of LED lighting to stimulate the chrysanthemum and/or daisy blooming also has many advantages, such as it is convenient to control the lighting with digital technology in changing the 100% brightness; the maintenance and bulb replacement cost are low; environmentally friendly application because it does not contain mercury or other toxins; it is easy to change the temperature, color when needed, which helps savepower.
Although the unit cost of one LED bulb is high, as many as 3- 4 times higher than the price of a conventional compact lamp, however, as proven by its outstanding features, the LED lighting application in chrysanthemum and daisy growing need to be replicated in the province.
Trong Tan